Protect your customer data with Silktide Analytics
Web analytics is broken. Businesses needed a way to find out how they were performing, and Google came along and offered a free solution to help them. At first, everything was fine. But over time, people began to realize that the user privacy cost was becoming out of control.
Not only that, but the product is bad. Slow loading, overly complex, and with the release of Google Analytics 4, virtually unusable. Add to that the invasion of user privacy, and aside from the price, it's not very compelling.
Google Analytics is not free. You pay using data entrusted to you by your loyal customers. It's understandable. Until now, there hasn't been an easy way to avoid using it.
Based in the US, Google gathers data from web users around the world. For those in Europe, this is a problem. Businesses and organizations are obligated to keep EU user data inside the EU. Transferring data to the US is prohibited by law, and so by using Google Analytics, you could be breaking the law.
Austria was the first EU member state to explicitly rule Google Analytics illegal, followed by France. More will follow.
By using Google Analytics, you also miss out on collecting data from users who don't accept cookies. Assuming the website owner has implemented cookie consent correctly, unless a user explicitly opts in to cookies the Google Analytics script won't load. This means you'll be missing out on a potentially sizeable percentage of your web traffic analytics.
So, in a nutshell, the reasons you might consider a Google Analytics alternative are:
Privacy-invading technology transmits EU data to the US
Overly complex for the average user
Illegal in some EU member states
Requires an intrusive cookie banner
Only collects data for people who accept the cookie banner
Doesn't include heatmaps or advanced behavior tracking
Understand 100% of your traffic
Google Analytics requires cookies to work. This means that users must consent to cookies (using a cookie popup banner that we're all familiar with) and the website owner cannot (by law in the EU) run the Google Analytics script on their site until the user explicitly consents.
In other words, GA cannot collect data from people who do not click "I accept cookies". This means a percentage of your web traffic doesn't get logged in GA.
Silktide is different. Because it's privacy-friendly and doesn't rely on collecting personal user data, nor require a cookie to work, every customer interaction is collected by default.
This is critical for businesses to understand all their traffic, not just those people who consent.
This gives you a much fuller picture of user behavior and helps you make informed decisions for optimizing conversions, funnels, and goals.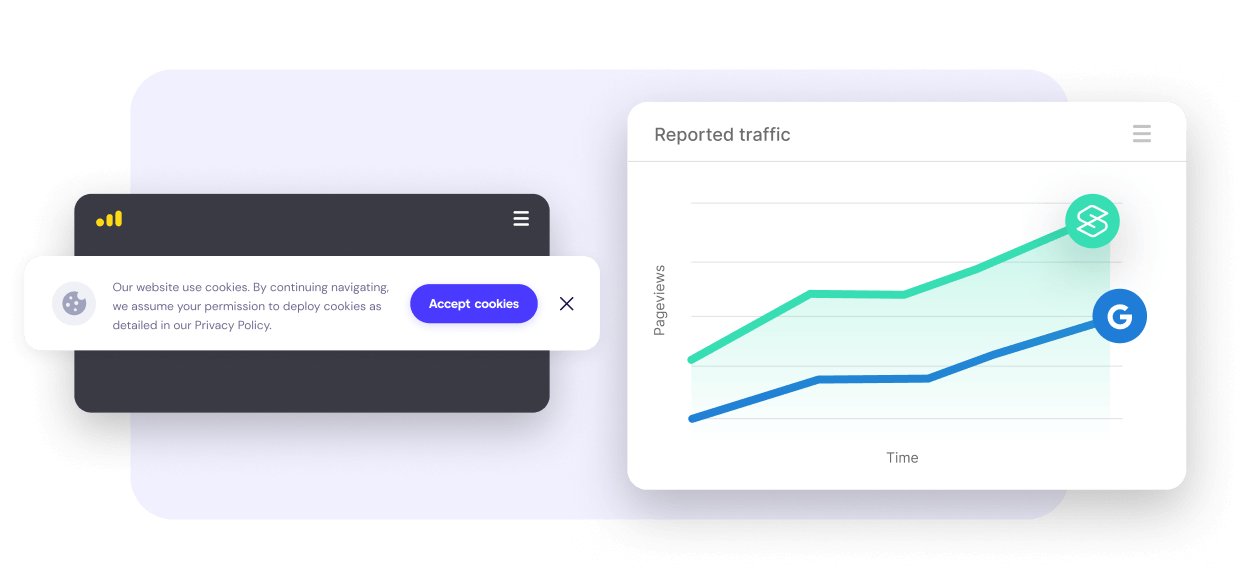 Measure user behavior with unlimited heatmaps and funnel tracking
Google Analytics does not include heatmaps. Silktide gives you unlimited heatmaps, available on every page of your site.
Silktide's heatmaps help you measure how far people scroll down your page, where users are interacting, and if users are becoming frustrated.
This gives you actionable data to make measured improvements.
As an example, let's say you want to measure how far people scroll down your ad landing pages. You can create two different versions, run 50% of your ad traffic to each, and monitor the heatmaps to look for differences. This is incredibly powerful and not possible in Google Analytics.
With funnels, you can measure drop-off rates in key user flows like ad landing pages or checkouts, and make changes to increase your conversion rates.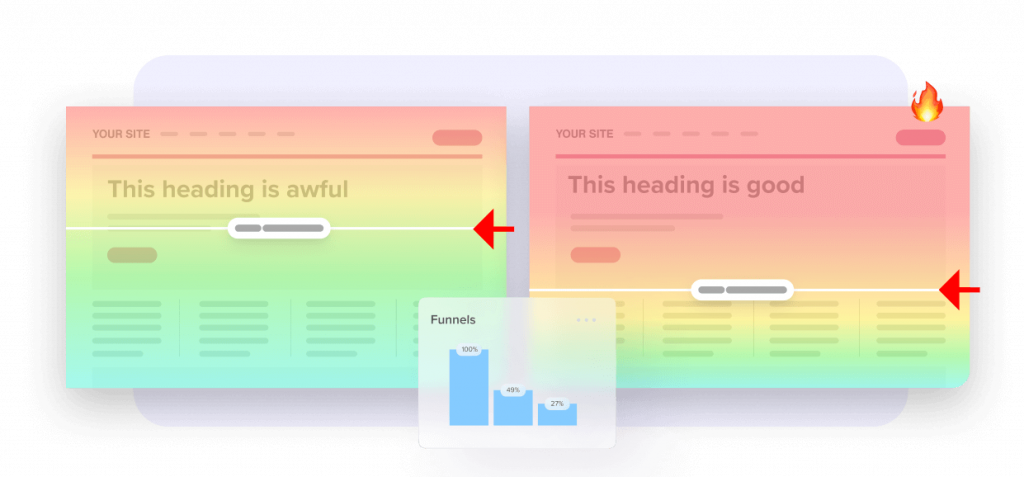 No cookies
Get meaningful data without intruding user privacy. Silktide Analytics is fully compliant with all global privacy laws and doesn't store any user data.
Unlimited heatmaps
Understand on-page user behaviour with unlimited click maps, scroll maps, and frustration maps for desktop and mobile versions of your site.
Zero training
Analytics is designed to be easy to use and understand. Every concept is explained in plain language, so your entire web team can pick it up quickly.
Frustration tracking
Find pain points and fix them. Silktide tracks rage clicks and other unexpected events that impact the user experience.
UTM tracking
Track the effectiveness of tracked campaign links with standard advertising tracking code support.
Lightweight script
Our script has negligible impact on your page loading time, which is great for your SEO.
Simple to use
Every core concept has explanations in plain English. Your whole team will understand it, even if they've never used analytics before.
Visually stunning
Easier on the eye that the alternatives to help you quickly see what's happening with your users
Funnels
Set up custom funnels to track user behaviour and measure drop-off of key user flows.
Analytics built for web managers. Get your demo today.