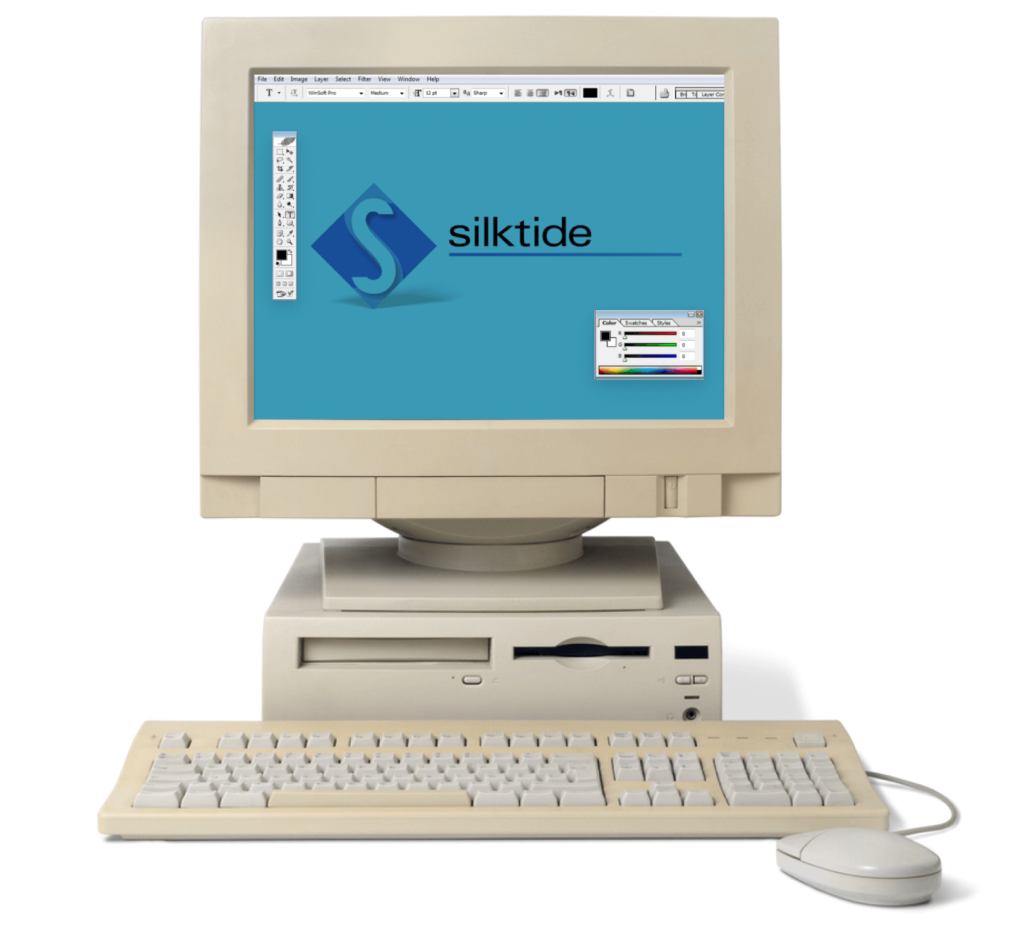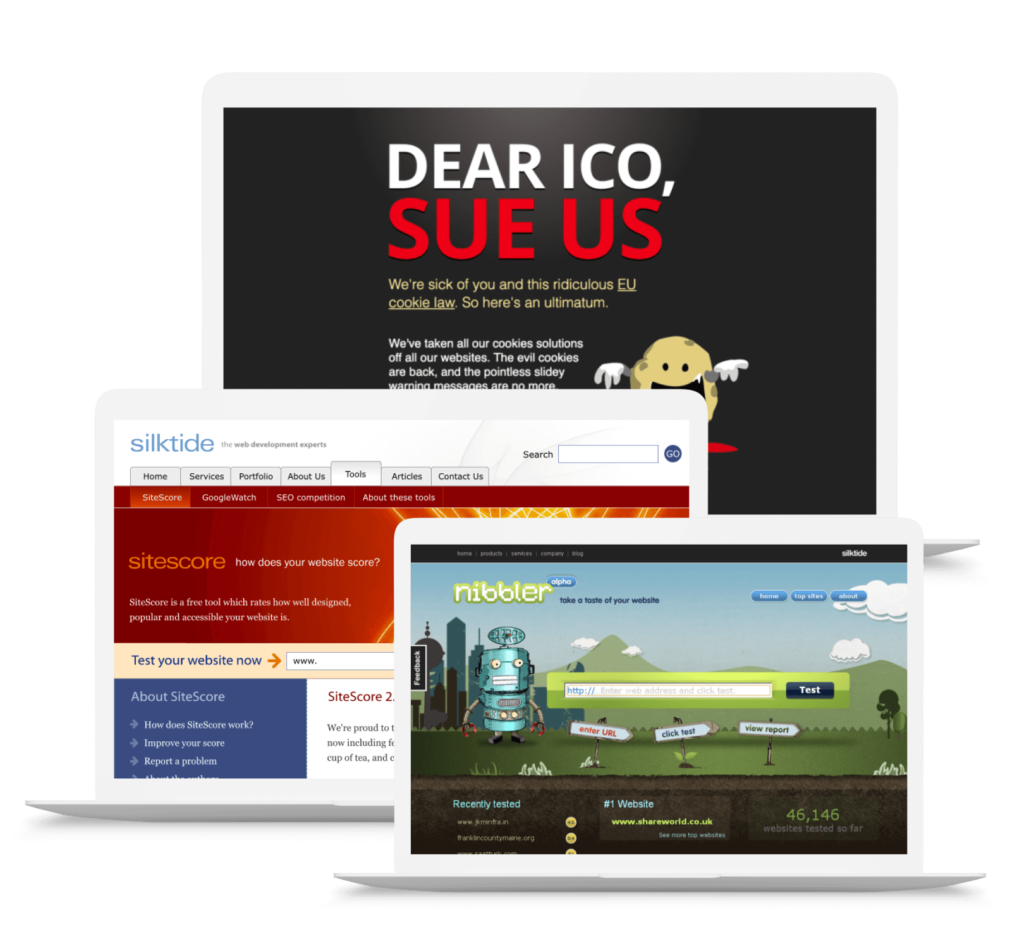 The 2003-2006 Silktide website
We found some screenshots of the Silktide site through the early years in an office drawer. So we scanned them in, faxed them to ourselves, and we present them here.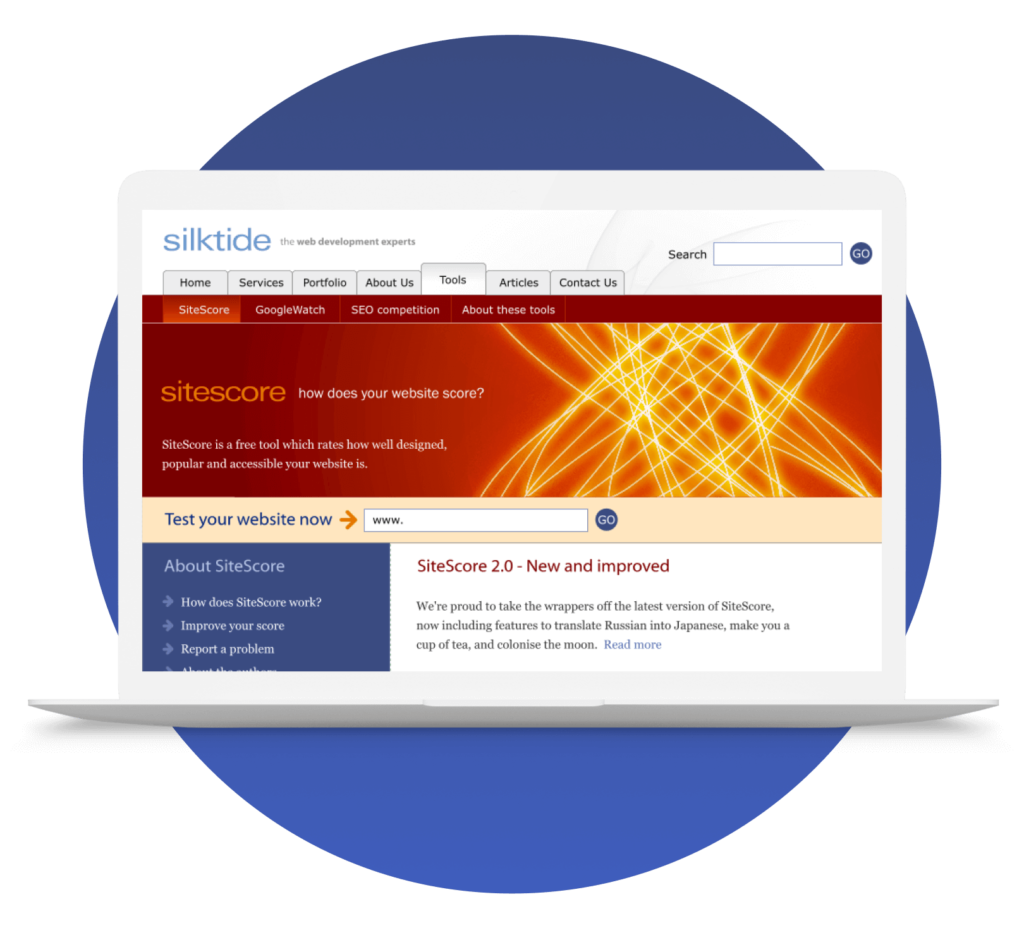 Sitescore
2004 – Sitescore is launched
Sitescore was Silktide's first iteration of a website testing and scoring platform. It was designed to help us find issues with client websites and was mainly used as a lead-generation tool for new business.
The free version allowed users to type in a URL and get a useful report on various aspects of a webpage.
It accidentally became incredibly popular, so much so that we had radio and TV coverage around the world.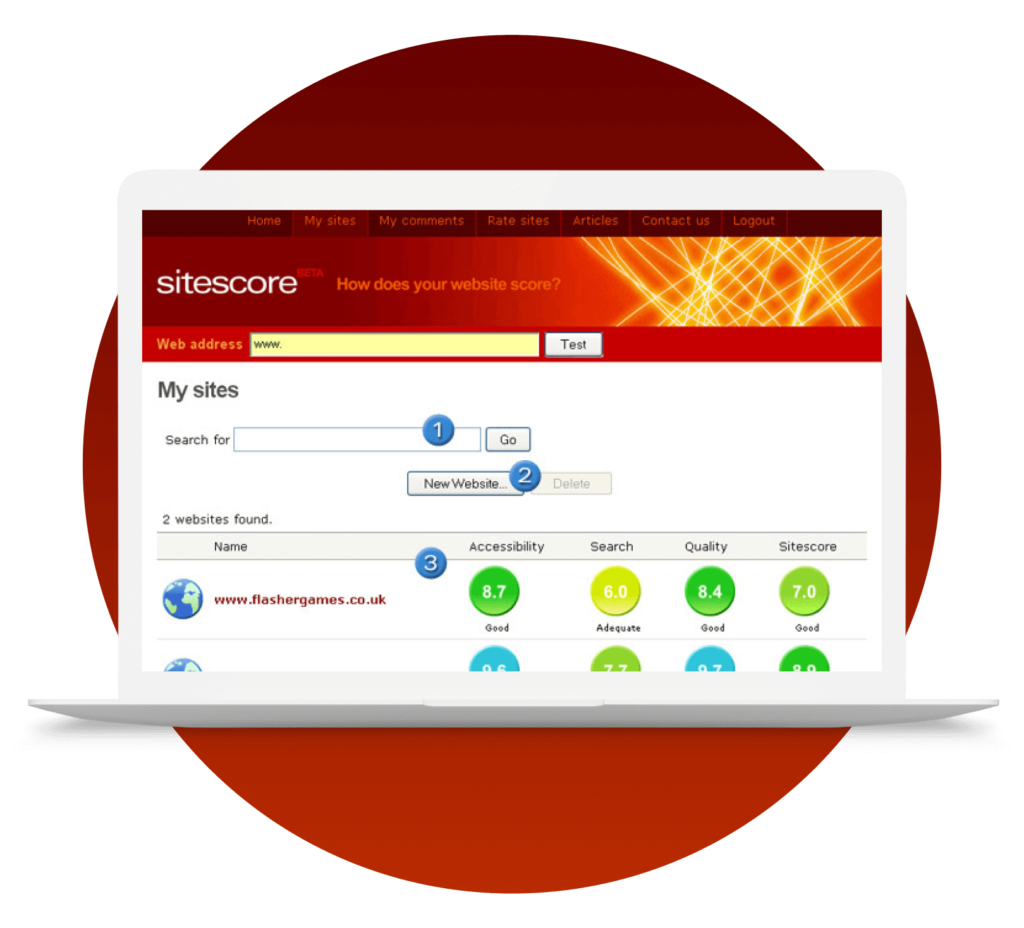 Sitescore Enterprise
2005 – Sitescore Enterprise is created
Sitescore Enterprise was a paid version of Sitescore, with a lot more features. It tested for and gave a score against a range of website criteria including:
Accessibility
How accessible the site is
Quality
How well built and how good the quality is
Search Score
How effectively the site is search-engine optimized
Sitescore
The overall summary based on the above scores
By 2006, the seeds were already sown for the future of Silktide as a software development company, rather than a web design agency.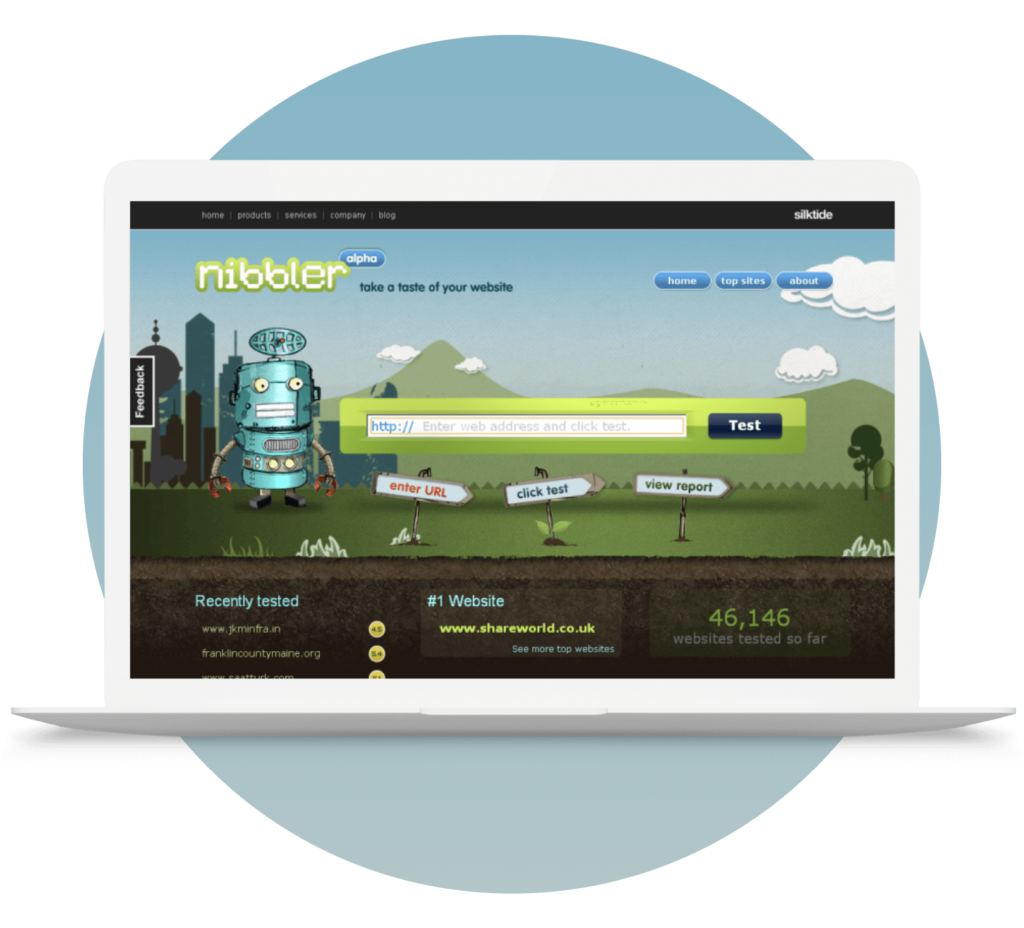 Nibbler
2009 – Nibbler launches
Nibbler has been our free website testing tool for over ten years. It gives you information on a wide range of factors affecting your web presence.
From our launch blog post about Nibbler, "It takes a 5 page sample of any website and rates it for a tonne of criteria, covering accessibility, SEO and social networking among others. We even tell you how dated your website looks: fear the words "your website is sooo 1995".
Here's how Nibbler looked on launch.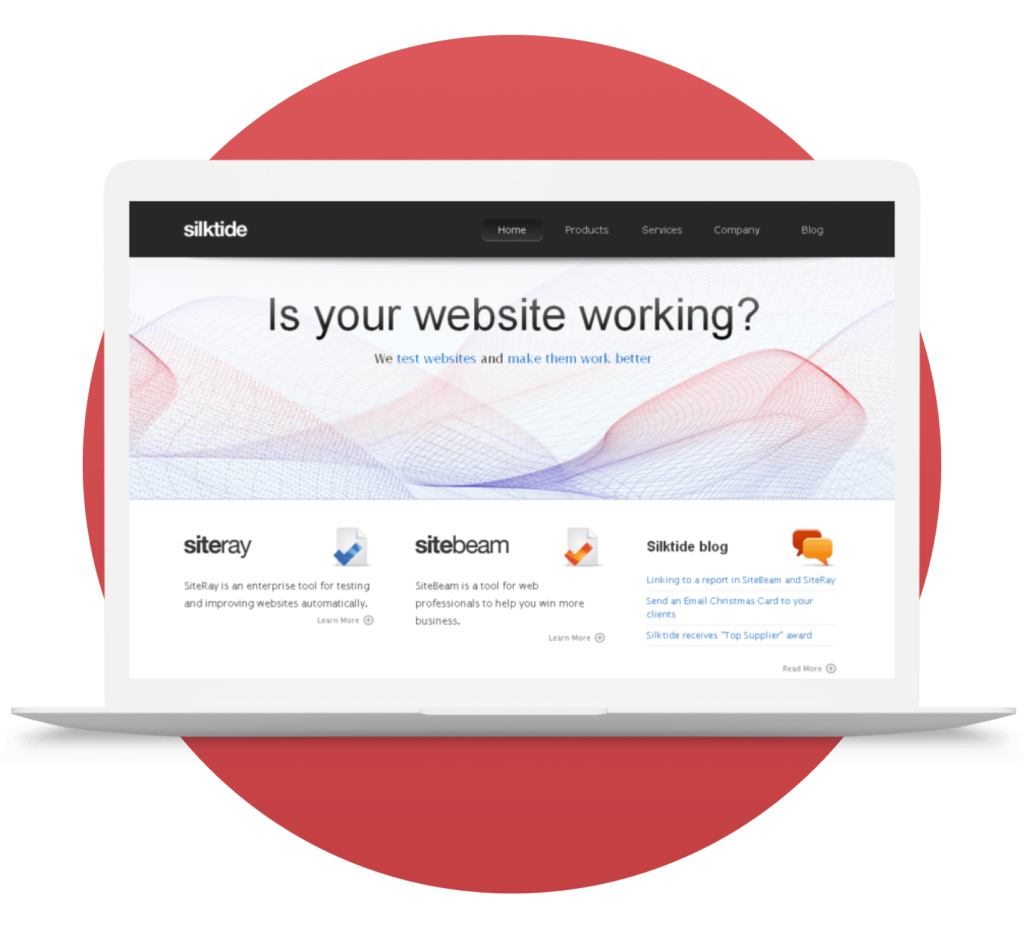 2010 – Silktide retires from web design
By 2010, our website testing software was gaining traction. We no longer wanted to focus on web design. Why? Put simply, we wanted more control over our future, so we gave it up after 10 successful years.
By the end of the year, Silktide had launched a new website.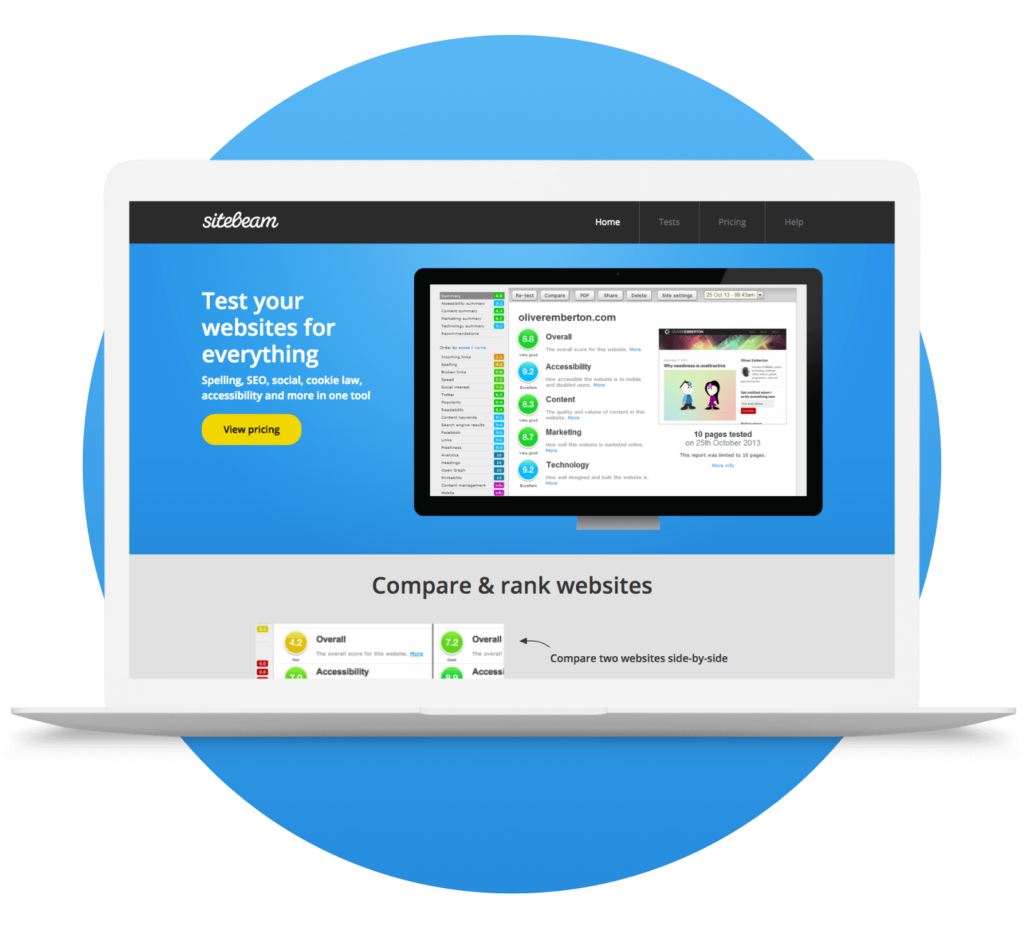 Sitebeam
2010 – Sitebeam and SiteRay
Sitebeam launches as a self-service, agency-focused platform to help web agencies test client websites.
SiteRay was created as the Enterprise-focused version of Sitebeam. Eventually, the two products merged into one, called SiteBeam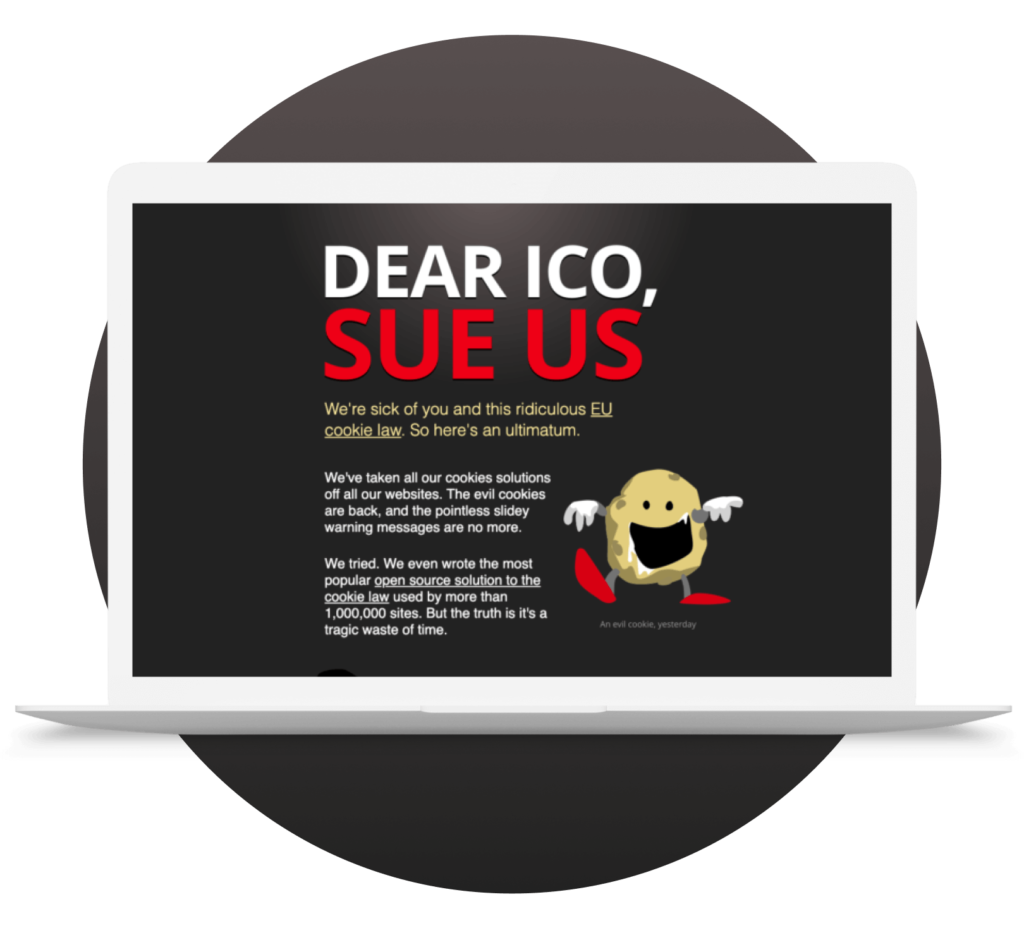 Cookie consent
2012 – Cookie Consent is born
Out of frustration with the EU Cookie Law, we created Cookie Consent so that businesses could add an annoying popup to their websites that the majority of users would subsequently ignore.
Our microsite, NoCookieLaw, poked fun at the ICO for its well-meaning but ultimately poorly-thought-out law. We also had some coverage in a BBC article about it.
At least the ICO responded in a tweet.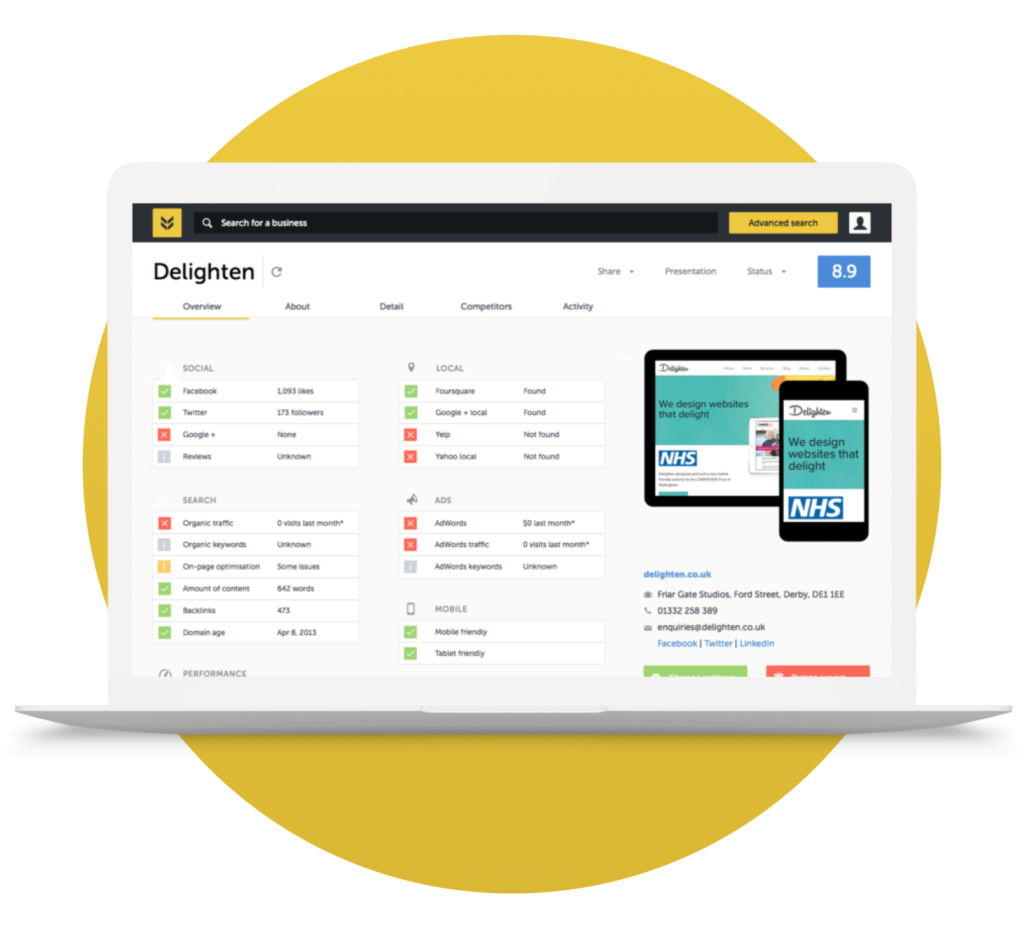 Haystack
2014 – Haystack is launched
Built upon the technology powering Nibbler, Haystack was the first iteration of Silktide Prospect, our enterprise platform to enable agencies to sell more service to their clients.
It checked things like social media presence, advertising, local search results, mobile compatibility, organic search, and popularity.
It was essentially a paid version of Nibbler with far more features and aimed at web agencies.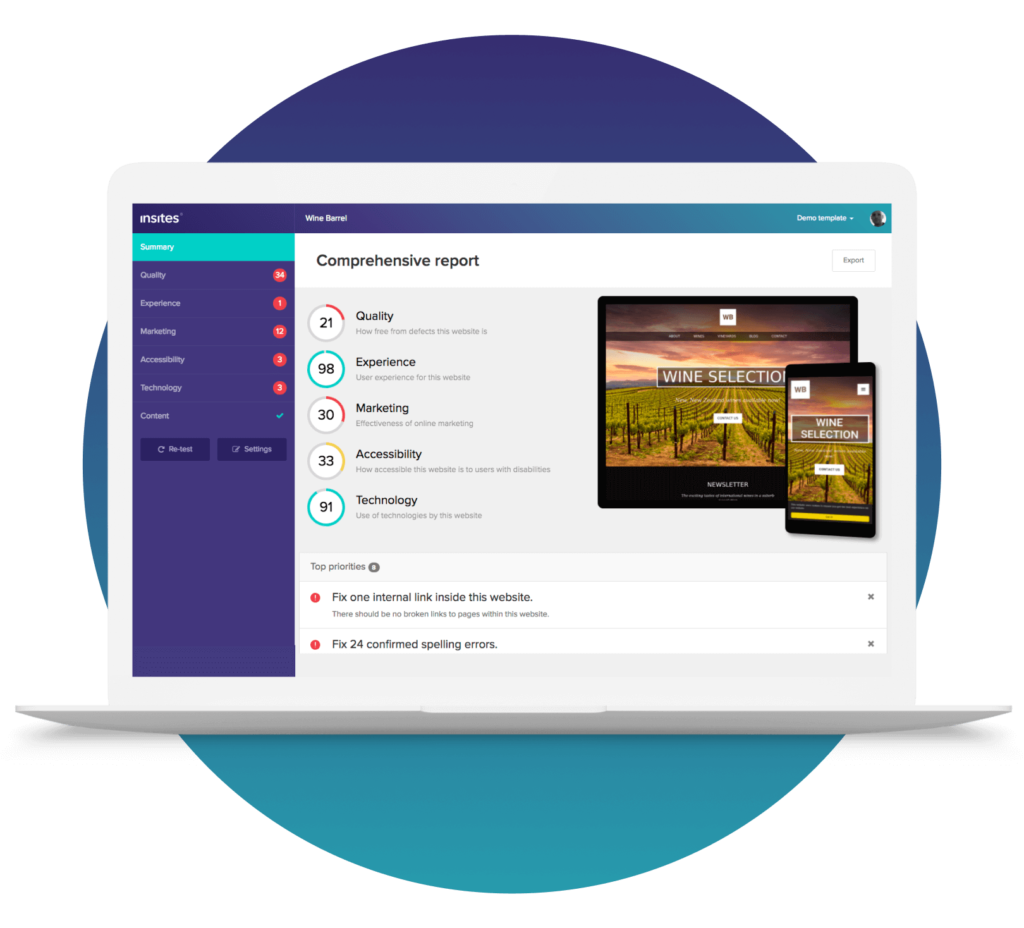 Insites
2016 – Insites is launched
Insites eventually became Silktide Monitor, (currently just 'Silktide'). Built on all our existing web testing technology, it started to resemble our current product.
The main modules were Quality, Experience, Marketing, Accessibility, and Technology.
Insites introduced testing in a real web browser – which means we could test your website after everything, including scripts, has loaded. This allows Silktide to test on mobile devices and can find problems that no other software could.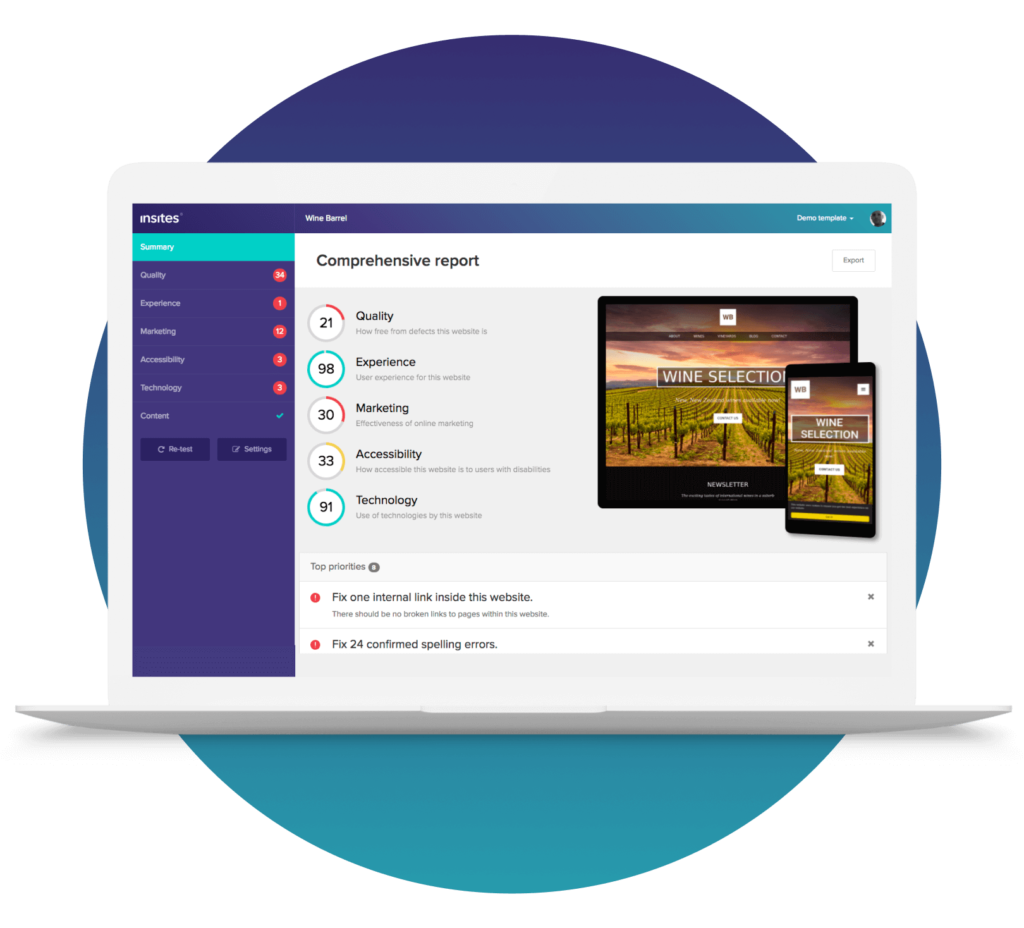 Insites Ecommerce
2017 – Insites Ecommerce is launched
To expand our offering to non-Enterprise clients, we added a self-service version of Insites, so that smaller business could get access to our product.
We also created a launch video.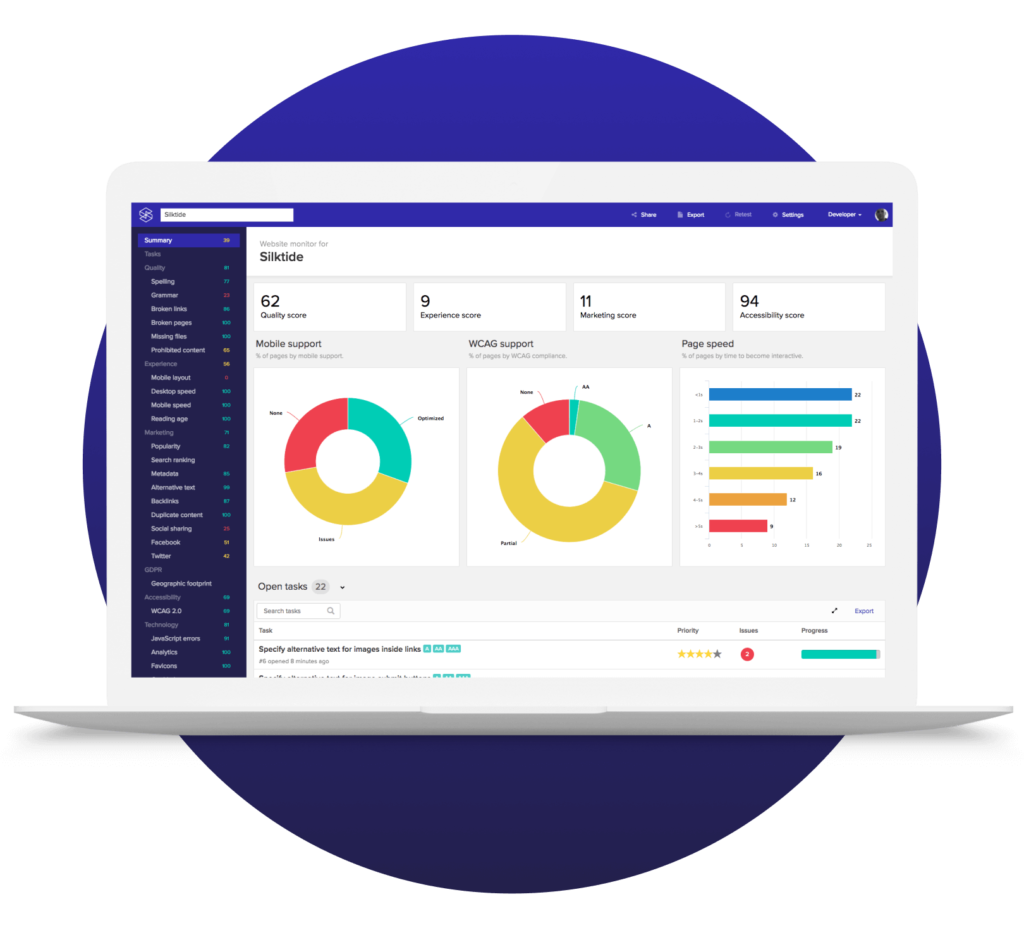 Silktide Monitor
2018 – Silktide Monitor is launched
Building on and essentially renaming Insites, Monitor became the core of Silktide's web testing software, covering Quality, Experience, Marketing, GDPR, Accessibility, Technology, and lots more.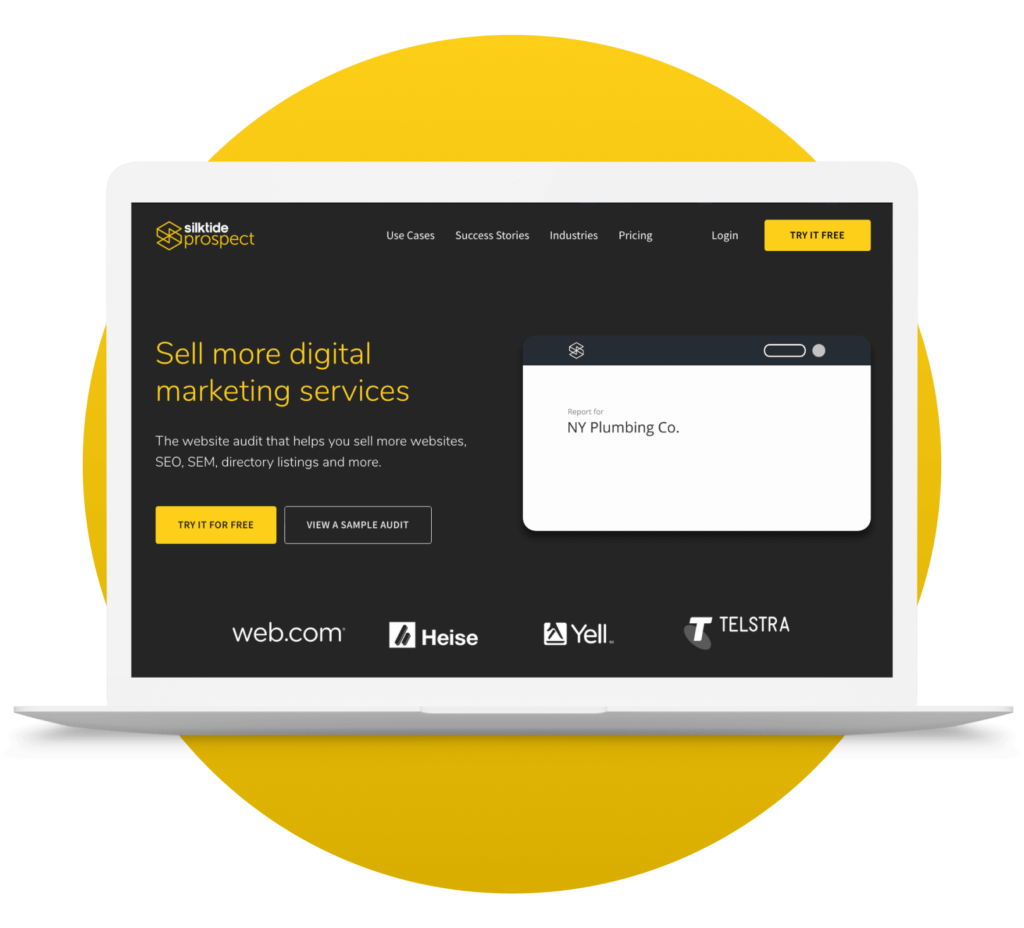 Silktide Prospect
2018 – Silktide Prospect is launched
Haystack becomes Silktide Prospect.
It was a good opportunity for a re-brand so we came up with the striking black and yellow design.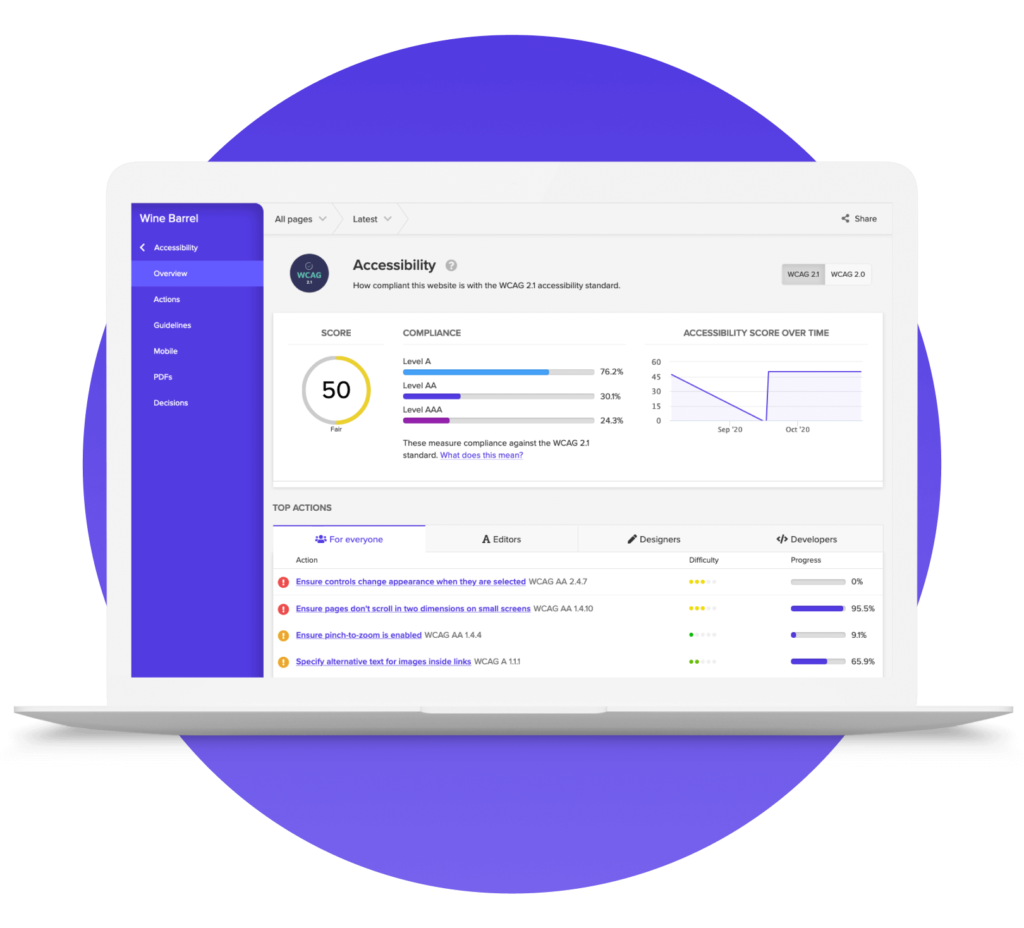 Remote working
2019 – Silktide goes remote
We sold the Cookie Consent plugin, and permanently retired our legacy SiteBeam product.
By 2019, Silktide Monitor and Silktide Prospect had become our flagship products.
In November, we decided to become a fully-remote company, which on reflection now seems quite prophetic.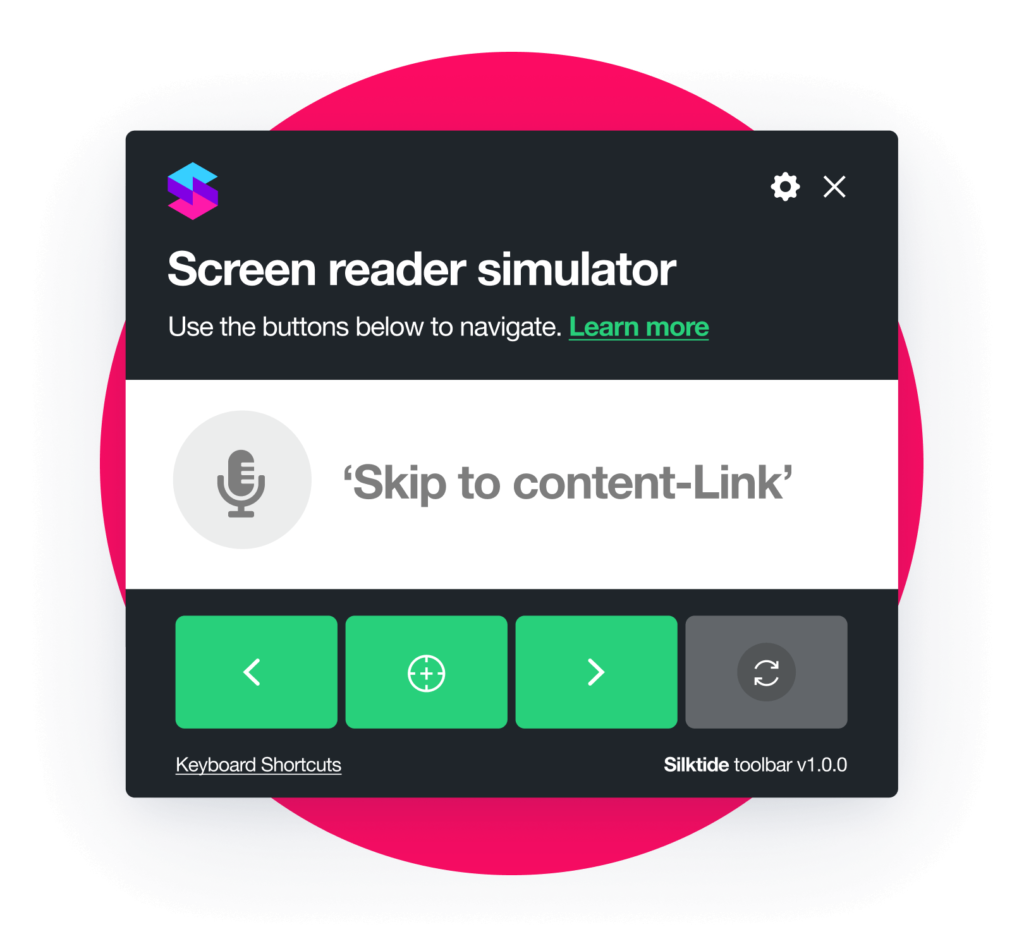 Chrome plugin
2019 – Disability simulator launched
We built our disability simulator Chrome plugin so that developers can experience their website in a number of different ways.
It includes a screen reader, a color-blindness simulator, a dyslexia simulator, a myopia simulator, and more.
This technology is also embedded into our platform.
Silktide Index
2020 – Silktide Index launches
We created the Silktide Index, which ranks global websites for accessibility, to start a conversation in the public sector of the importance of accessibility.
We launched with UK public sector sites because the EU Web Accessibility Directive was coming into force in September. The results are published monthly.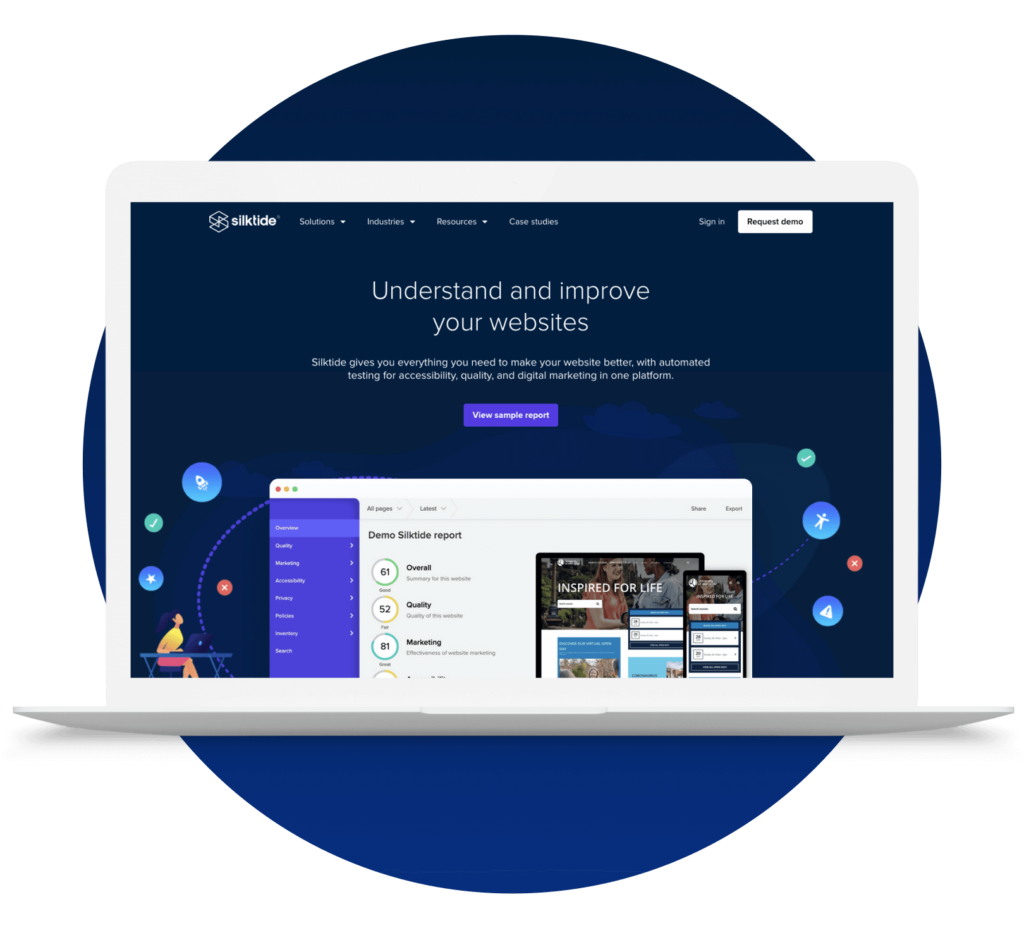 2020 – Remote working and new website
We became a fully-remote company.
The COVID-19 pandemic forced our hand a little earlier than we'd planned, but ultimately, as a remote team, we've seen no decrease in productivity or general 'togetherness'. Quite the opposite in fact.
We also extensively updated our website and content.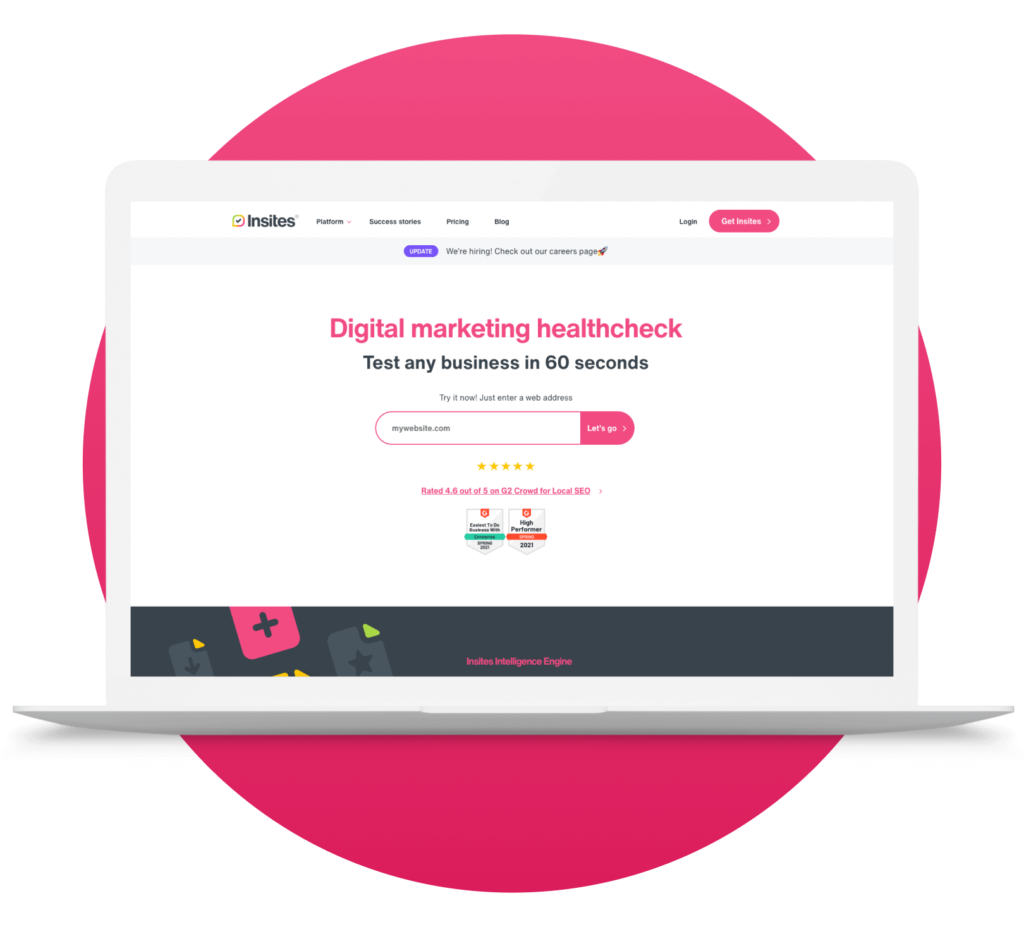 2020 – Prospect becomes Insites
Silktide Prospect serves an entirely different customer base than the main Silktide platform. We struggled for a while to try and solve the problem of marketing two fundamentally different platforms to two different audiences, using only one website.
In the end, we rebranded Silktide Prospect to Insites, gave it its own domain, and solved our problem.