Personal. Powerful.
Understand and navigate your website challenges with contextual analysis and personalized improvements.
Custom solutions tailored to you
Reduce your reliance on technical documentation with clear and specific explanations appropriate to your skill level.
Web accessibility
Silktide AI adds context to the accessibility issues it finds, something that up until now, computers have been unable to do.
This example shows Silktide AI suggesting another option for "Read more" link text, by understanding where the link is leading and offering a more elegant solution.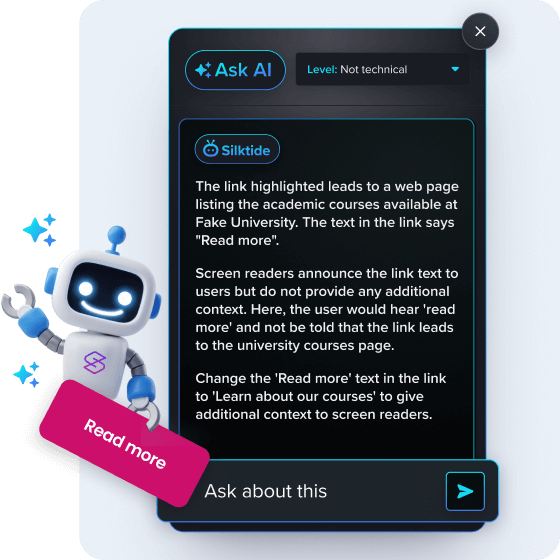 Spelling and grammar
Go beyond checking individual words against dictionary definitions, and get true insight into the meaning behind them.
In this example, Silktide AI offers an explanation for the incorrect grammar in the page title and suggests the solution.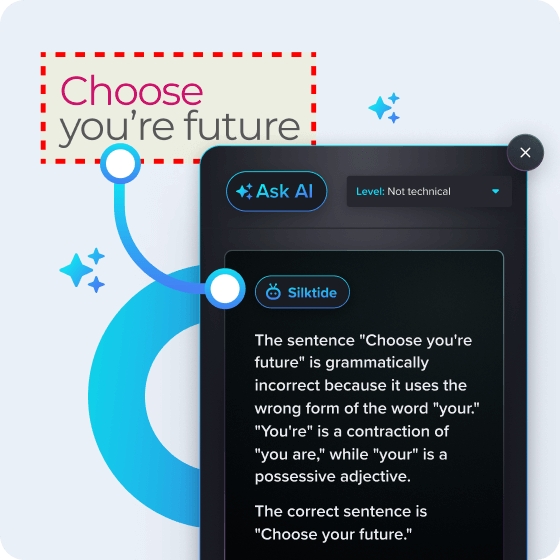 SEO and marketing
Silktide AI offers suggestions for meta descriptions, keyword optimization, and improving on-page SEO based on your individual requirements.
This example offers a suggestion for the missing meta description by analyzing the contents of the page.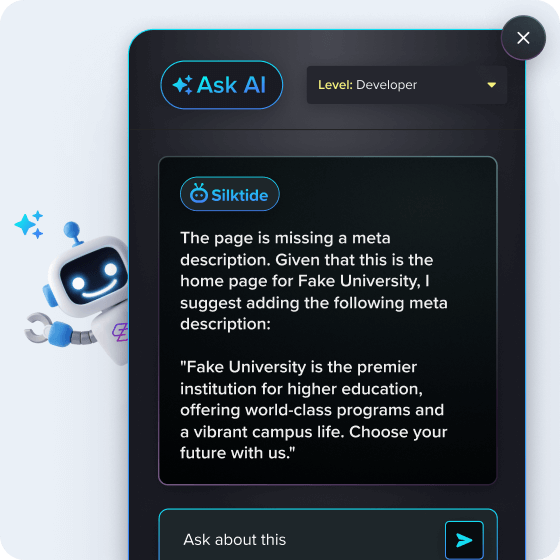 The power of AI in three simple steps
Press a button

Ask AI about any issue Silktide finds at the click of a button.

Intelligent suggestions

Get contextual solutions for your specific problem.

Follow up

Give Silktide AI more context and get better suggestions.
Join the AI revolution
Silktide AI is currently being tested by select customers. Contact us for your demo.