What is ADA compliance for websites?
The Americans with Disabilities Act (ADA) is a civil rights law that prohibits discrimination against people with disabilities in all areas of public life, including employment, education, transportation, and public accommodations. This includes websites.
In a nutshell, you must ensure that your website and any other online materials do not discriminate against a person on the basis of disability, under Title II of the Americans with Disabilities Act of 1990 (ADA Title II).
The good news is that accessibility is not hard to implement, with the right tools and guidance. Although it can seem like an overwhelming and technical topic, help is available that explains clearly what you need to do.
How can I make my website ADA-compliant?
Let's break down the step-by-step process of what you need to do to make your website accessible and avoid litigation under the ADA.
Don't panic
There is potentially a huge amount of work ahead of you to address your website's accessibility and reduce your legal risks. That said, the first thing you should do is not to panic. It's possible to make good progress with web accessibility, even if you don't currently know where to begin, by using a combination of helpful tools and the expertise of accessibility consultants.
Accessibility is about making the lives of people with disabilities easier. You should consider this an amazing opportunity to help others by building a more inclusive online experience.
Conduct a thorough web accessibility audit
There are two main approaches to finding and remediating web accessibility problems. The first is by using automated tools that check your website for problems, report on them, and help you understand and fix them. The second is by engaging accessibility specialists to manually assess individual web pages and templates, using a range of assistive technologies.
Each has its benefits and drawbacks. Our recommendation is always that you should take a combined approach to web accessibility, with both manual and automated assessments.
Let's discuss each approach.
Automated accessibility testing
Using software to scan your websites and find accessibility problems allows you to find things you wouldn't find with manual assessment alone. Automation can cover every page of your site. This is important because accessibility problems are not only restricted to website code, but they arise when inaccessible content is created by your team.
We mentioned the barriers created by having video content without subtitles earlier, or poorly contrasting text content. Your content editors and your designers are responsible for these. Problems with navigation, by using a keyboard, for example, are generally fixed by your development team.
Software can detect common problems like these and alert you to where they are on each page of your site. This means your accessibility audit becomes a lot easier, and you can usually have your entire site scanned in a matter of minutes, depending on its size.
Once the site is assessed, the results are presented to you along with a prioritized list of actions. Most platforms will also give you explanations of the problems and show you how to fix them, usually in plain language to make it easier for your team.
Of course, computers are not capable of finding everything, so this is why automated testing should be undertaken alongside regular manual assessments.
Video: An overview of Silktide's automated accessibility platform
Manual accessibility testing
Backed by years of experience, web accessibility experts study individual pages, templates, themes, and forms, and approach their testing by trying to use your site as a person with disabilities might.
Manual assessment gives you the opportunity to learn how people use your site and offers additional context that automated testing alone cannot. This includes navigating without a mouse, using technologies that read the contents of your website out, or ensuring that the images are correctly labeled with text alternatives if needed.
The drawback is that the process is labor-intensive, and you cannot get full coverage of your entire website using manual testing alone.
Combining automated and manual auditing will give you the most coverage and allow you to create a comprehensive report. This is key to forming your plan for tackling the problems. Without automated testing, you could spend most of that time just trying to find the problems, which is not ideal when time is against you.
To get started with your audit, you should get in touch with Silktide. We offer both automated assessments with our comprehensive accessibility platform and manual auditing from our team of in-house accessibility experts. We'll give more details about that later in this article.
Video: An overview of Silktide's manual accessibility services
Develop a remediation plan
Once accessibility issues are identified, then you should develop a plan for remediation.
With the list of issues found through automation, you'll be able to give your team, contractors, or agency a pre-made list of fixes that they can work through easily.
We already mentioned that accessibility can seem like an overwhelming and complex topic, so that's why Silktide's accessibility platform contains bite-sized explanations of every issue it finds. This means that your team can easily understand what they need to do.
The results of your manual assessment are documented, usually in the form of a spreadsheet with a list of action points and compliance failures. Combining this with your automated audit gives you a comprehensive accessibility remediation plan.
Implement the remediation plan
You should start working towards remediation as soon as you have your accessibility audit results.
The responsibility lies with everybody who contributes to your website, not just the web developers. It can be difficult to figure out practically how to split the workload. However, with an automated solution like Silktide it's very simple to get the right issues in front of the right people.
The majority of accessibility work is in finding the problems and figuring out who is going to fix them and when, so once these important steps are in place, the process of remediation becomes much simpler. You're able to take a methodical approach, working through the problems step-by-step. It saves your team from being overwhelmed by what would otherwise be an insurmountable task.
Train staff to raise accessibility awareness
You should provide training to staff responsible for website content creation and maintenance on accessibility best practices and the importance of website accessibility. It is also important to raise awareness among staff and stakeholders about the consequences of inaccessible websites and the legal requirements for accessibility.
You then need to adopt new policies and procedures so that you maintain an appropriate standard of accessibility.
The difficulty with accessibility is that it's a complex topic, and if you point people to the Web Content Accessibility Guidelines (the generally accepted global standards for web accessibility) they're unlikely to understand them. Silktide has produced a wealth of training material and made it available in the platform, so every issue has a helpful explanation and video. We have extensive materials available on our YouTube channel and we provide accessibility training to your whole organization in the Silktide Academy inside the platform.
Our expert consultants can also work with you to help you craft new policies and provide training workshops.
Free book: How to make your website accessible
"Best practices for implementing great web accessibility" is our free ebook covering the principles and techniques for getting started with web accessibility. It's aimed at total beginners and contains useful tips you can action today.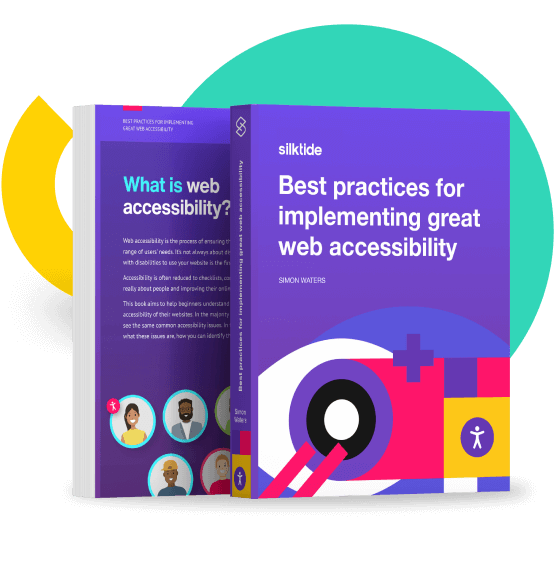 Monitor and maintain accessibility compliance
Once the accessibility problems have been fixed, you should implement ongoing monitoring and maintenance processes to ensure continued compliance with accessibility standards. These may include regular accessibility audits, user testing, and staying updated with changes in accessibility laws and standards.
Using Silktide, you'll be able to assess your website regularly and automatically and be alerted to any new issues. Your content creators and contributors can use Silktide to check for accessibility issues on pages before they go live.
This greatly reduces the risk of ADA compliance letters and helps you maintain a much more accessible website.
Next steps
Contact Silktide for a free initial consultation and we'll give you an accessibility report for your website. The report is interactive and helps you understand the issues, who they affect, and how you can approach fixing them. With it, you can show that you've taken immediate and ongoing steps to improve your accessibility.
We'll also discuss how you can implement auditing, training, remediation, and policies into your organization's workflows.
Remember, don't panic. Help is available.
Book your free ADA compliance consultation with our accessibility experts
Reduce the legal risks of having an inaccessible website
Learn how a combination of automated and manual accessibility testing helps you become ADA compliant
Discover how Silktide can improve your team's accessibility workflow
Take the pain out of learning accessibility
Get a free scan of your website so you have a starting point
"Silktide streamlines the process of making our websites ADA compliant, making it simpler to fix accessibility issues and encourage lifelong learning."