A new league table ranking UK public sector websites launched today.
The Silktide Index presents a comprehensive analysis of websites in an easy-to-understand format. Tests cover the latest standards for website accessibility which include mobile accessibility.

The list of UK public sector websites in the Index is maintained by Silktide in partnership with Socitm. Socitm have chosen Silktide as their new web accessibility partner for 2020.
Why has Silktide created the Index?
At Silktide, we believe in making the web a better place for everyone. In fact, it's our mission statement. Over the last 10 years, our platform has enabled website owners and stakeholders to improve the quality of their sites with automated testing.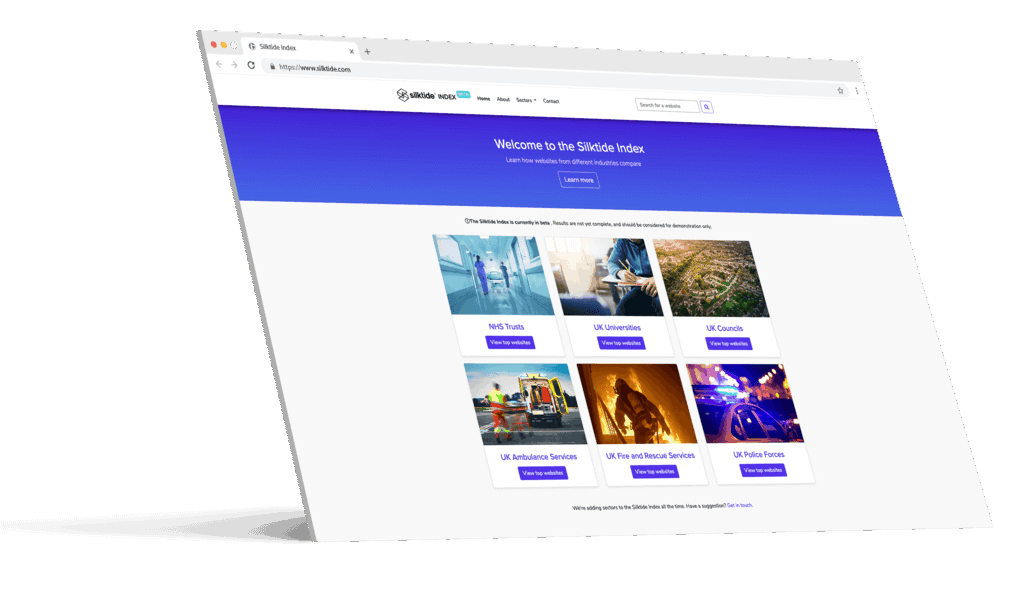 The Index has been created in partnership with Socitm as a way to highlight top-performing UK public sector websites while offering impartial advice and recommendations for quality improvements.
The Index commends the top 30 websites in each sector, or fewer where a sector is very small. We'll never "name and shame" websites with lower accessibility scores or those who have a way to go to become WCAG 2.1 compliant.
How are websites tested?
Our automated platform tests as a human being would, on real devices. Common test criteria include:
Missing alternative text
Colour contrast
JavaScript errors
Form control labels
PDF accessibility
Mobile accessibility
and many more
We believe that Silktide performs the most advanced automated assessments of website accessibility. This means that issues you may previously not have been aware of may be highlighted. We test for mobile accessibility, tabbed browsing, non-text contrast, and many other parts of WCAG 2.1 that we don't believe are covered by other platforms.
How does the Silktide Index work?
Towards the end of the month, we attempt to test each website in a list maintained by Silktide and Socitm. We'll publish the results of these tests on the first of each month.
We test the top 125 pages for each site, as well as up to 25 PDF documents. The test is completed both in a desktop environment and a mobile device with an equivalent screen size of an iPhone 5 (the small screen size corresponds to a requirement of WCAG 2.1).
Pages are loaded in real browsers with JavaScript enabled, so any plugins like cookie banners or Google Maps will be tested as part of your pages. The results are far more accurate but may highlight issues that you were unaware of until now.
Some parts of accessibility are subjective or cannot be automatically checked by a computer. Where this is the case, these areas will not impact the website score.
Why should I trust the Silktide Index?
We are fully committed to the impartial testing of websites. Our company has been in business since 2001 and our platform is used by over 1,000 clients in over 90 countries worldwide.