The Department of Justice is criticized for lacking clear web accessibility regulations. But that's about to change.
All local and state governments across the United States including California will be required to meet new regulations or suffer legal action from the Department of Justice (DOJ) for violating the Americans with Disabilities Act (ADA).
New proposed rules will be released by the DOJ in April 2023 and are expected to detail what needs to be done in order for a website to be considered accessible under the ADA.
Why does this matter?
If the rate at which web accessibility lawsuits have increased over recent years tells us anything, it's that the threat of legal action is very real. In 2020, 10,982 ADA Title III lawsuits were filed in federal court, a number that was barely slowed by the COVID-19 pandemic.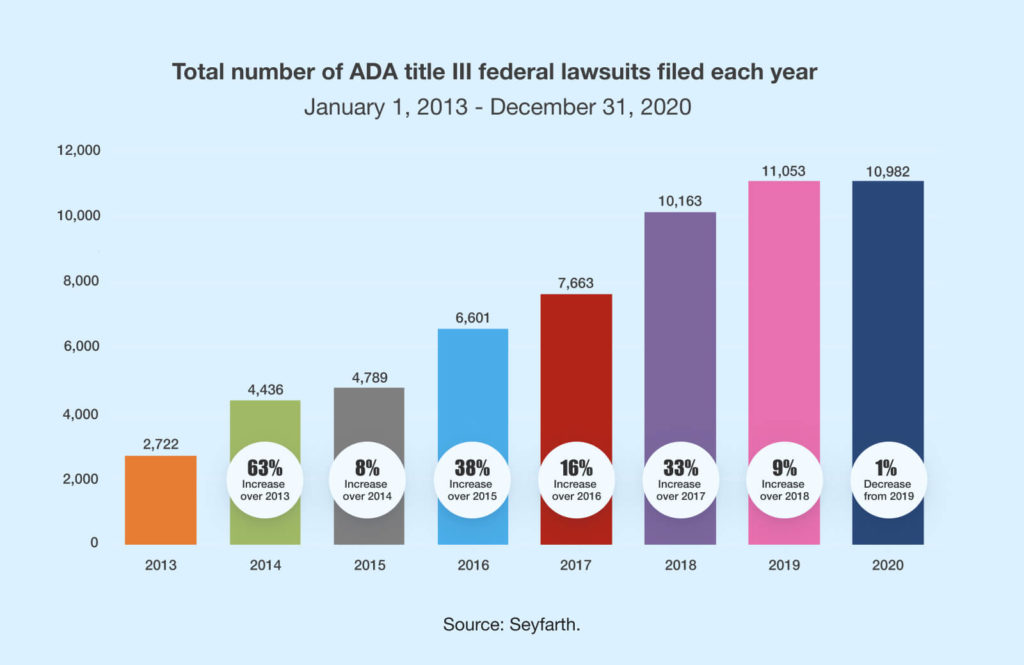 These trends continue to accelerate drastically. In January 2021, 1,108 cases were filed – the most ever in a single month (source).
When it comes to US local government, the DOJ is very attentive, filing hundreds of lawsuits for allegedly violating the ADA. And with DOJ introducing new regulations, it's a big sign that they plan on scaling up the velocity of lawsuits against local government organizations.
Am I exempt?
The likely answer is no. All local and state governments, no matter their size or receipt of Federal funding are expected to comply with Title II of the ADA.
Is my website already accessible?
Many people ask "How do I know when my website is accessible?", and unfortunately the law, and indeed the standards themselves, don't explicitly state 'Here is a pass and here is a failure'. We explain this in more detail here.
Some common accessibility issues you may encounter include those with:
Keyboard navigation
Insufficient color contrast
Incorrect/missing alternative text on images
Two-dimensional page scrolling on mobile devices
Inaccessible PDFs
If you've not heard of these terms before, don't panic. We have plenty of resources available to help you understand them.
What are the legal standards for accessibility?
The DOJ is widely expected to adopt the WCAG standard for accessibility, which is the same standard adopted by Section 508, and much of the rest of the world.
But what is WCAG? You may have heard the term. They're the Web Content Accessibility Guidelines – the globally accepted standard against which accessibility is measured.
We put together the following short video about WCAG for beginners.
The DOJ has promised to clarify the exact standard in early 2023, but it's almost certain to range between WCAG 2.0 (what Section 508 uses) and WCAG 2.2 (the latest version, currently in final draft).
If you're new to web accessibility, or concerned that your website will be considered a breach of the ADA, getting a good understanding of WCAG 2.1 is a good place to start.
What can you do about it?
You should start by performing an audit of your websites. We'd generally recommend an approach that combines both automated and manual accessibility testing. You can read more about why here.
While there's no quick and easy fix for web accessibility, Silktide will help you find and fix a large range of accessibility issues on your website.
Next steps
If this article has confused you, don't panic. All you need to know is:
You need to make your website accessible
Silktide can help you make it a painless process
We work with organizations across the US to solve problems with web accessibility, content quality, user experience, privacy, SEO, and more.
We provide a user-friendly software platform that tests all your websites and shows you how to fix issues. See a live demo of how Silktide works here.
We're happy to talk to you about your accessibility problems. Contact us on our live chat or request a demo of Silktide now.