A year has passed since our Global Accessibility Awareness Day 2021 (#GAAD) web accessibility report, but have things gotten better, or worse?
Last year, we created the big accessibility report that discussed the results of our accessibility testing of over 6,000 websites in the Silktide Index. I'd encourage you to head over there and read it.
The results showed that in the main, global public sector websites were more accessible than global private sector websites, by quite some margin).
So this year, I wanted to re-examine a few of the best and worst sectors and see what, if any, improvements have been made.
The good stuff
We concluded that UK Local Government and Canadian Central Government were the two most accessible sectors. In fact, at the time, the top 20 websites in the entire index were UK Local Government websites. These were followed closely by UK Central Government and UK Universities.
So have there been any further improvements to these already great quality websites?
UK Local Government
UK Local Government was one of the top-performing sectors in the Index in May 2021, so we weren't expecting a huge increase in average accessibility scoring, because it was already high. That said, there were still gains in median scores from 83.05 in 2021 to 85.85 in 2022. The bottom 25% percentile also showed an improvement from around 73 to 75.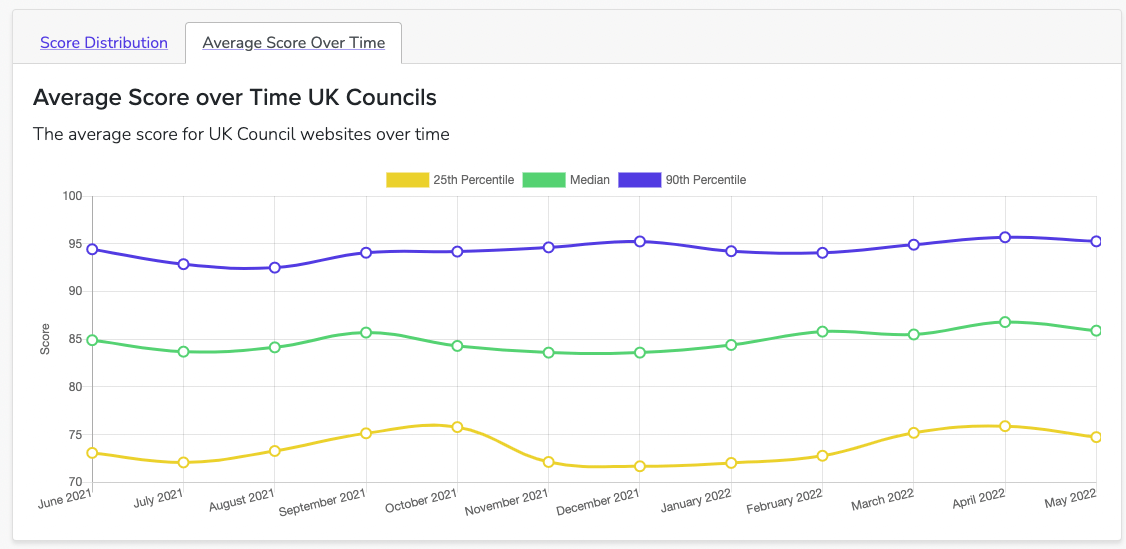 Canadian Central Government
The Canadian Central Government websites also showed a median score improvement from 80.25 to 82.7. Even the lowest 25th percentile scores in the list hover in the high-60s, which is fairly respectable even if improvements can be made.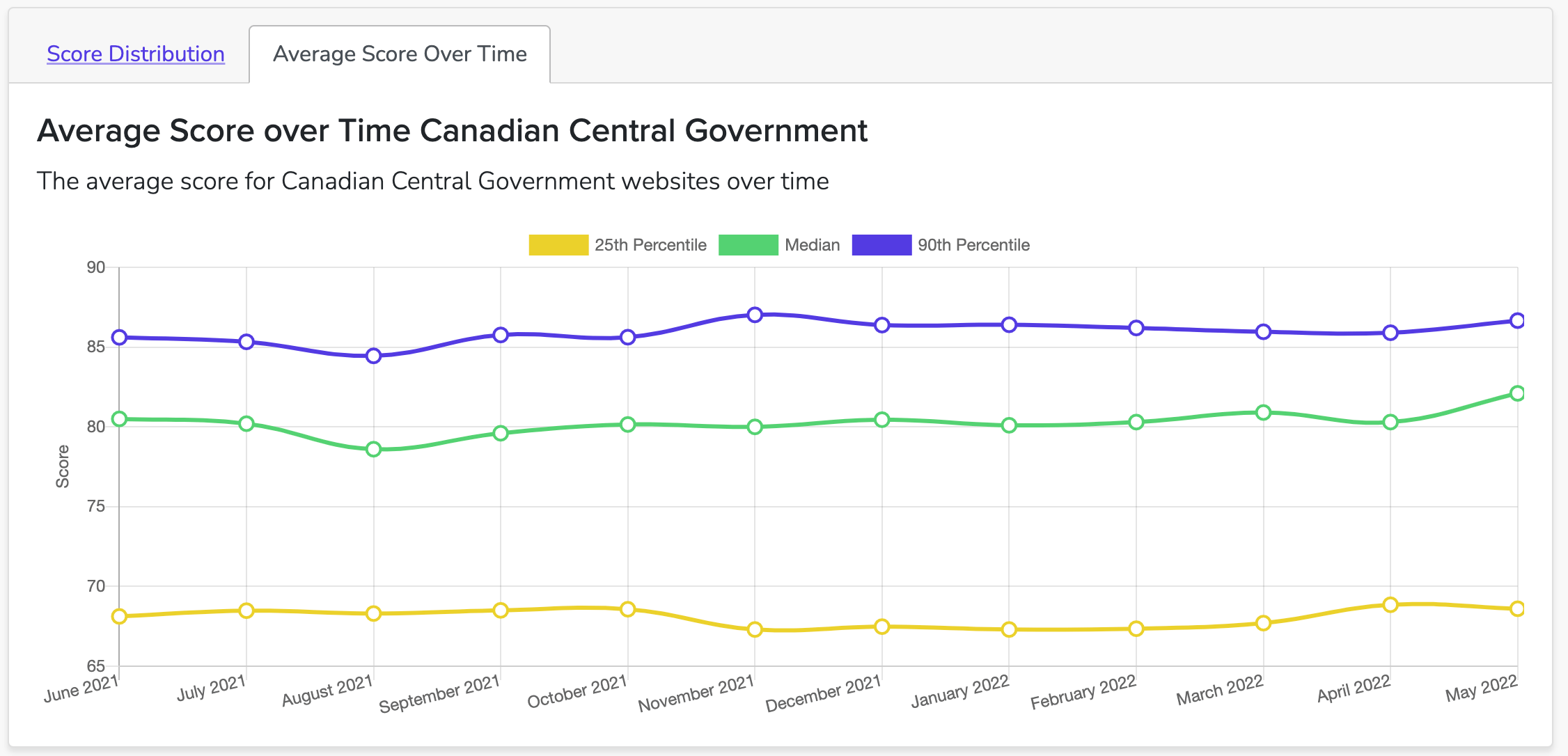 The bad stuff
At the bottom end of the Index in 2021 were UK Retail and UK Supermarkets. I was interested to see if there would be any improvements here, especially given the events of the last few years requiring more people to buy food and products online.
Sadly, the news is not good.
UK Supermarkets
The median score remains practically unchanged in UK Supermarkets from 46 in 2021 to 46.7 in 2022. Given that the scores were in the mid-forties to begin with, this is a poor show from this sector.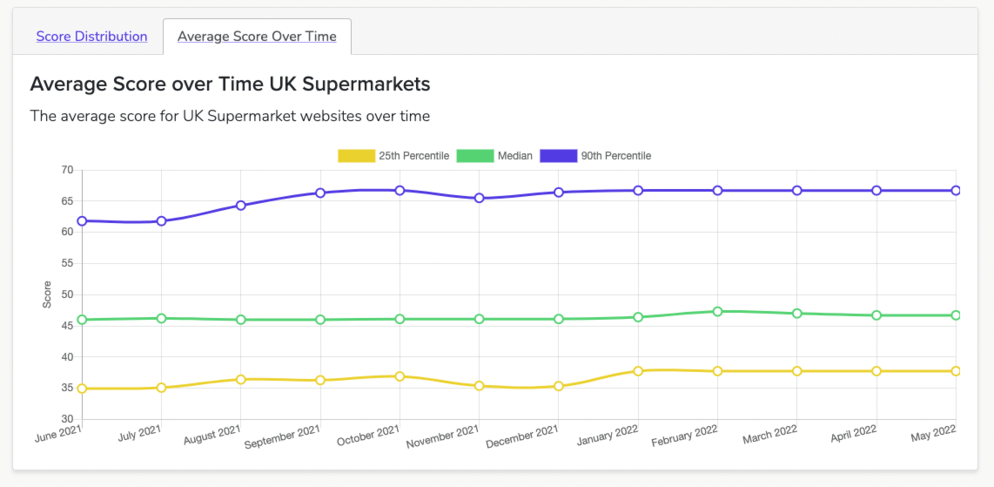 UK Retail (Fashion, Home & DIY, Health and Beauty)
In all three retail sectors we tested, not one had changed. Not one. Every graph is completely flat, and all are stuck with median scores below 45.
In 2022 this really isn't good enough. The problem here is that nobody is explaining to these well-known brands how important accessibility is.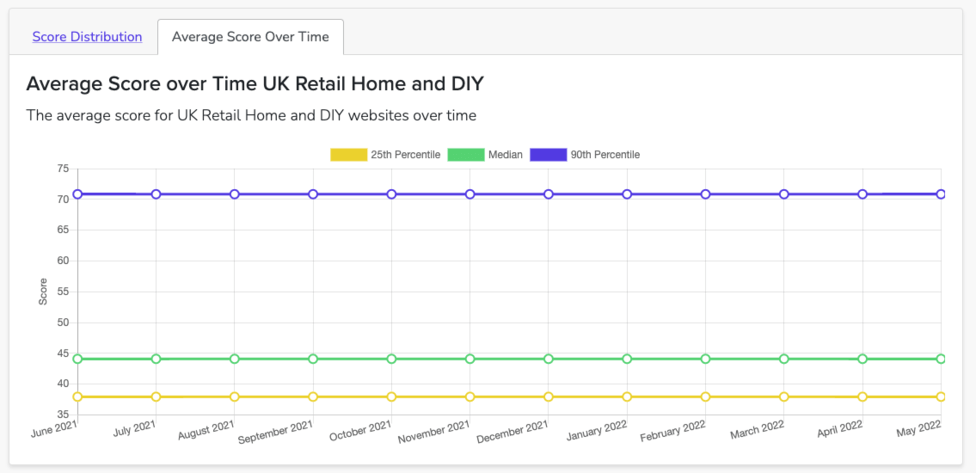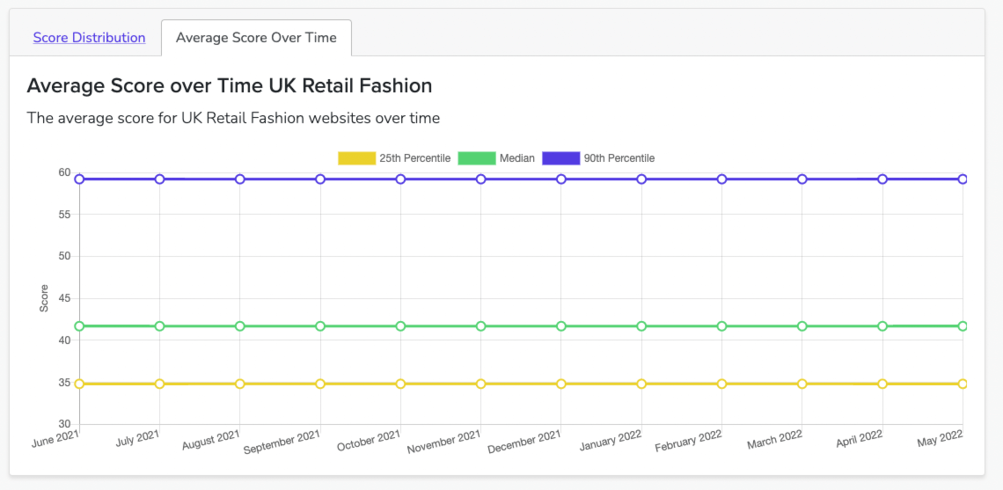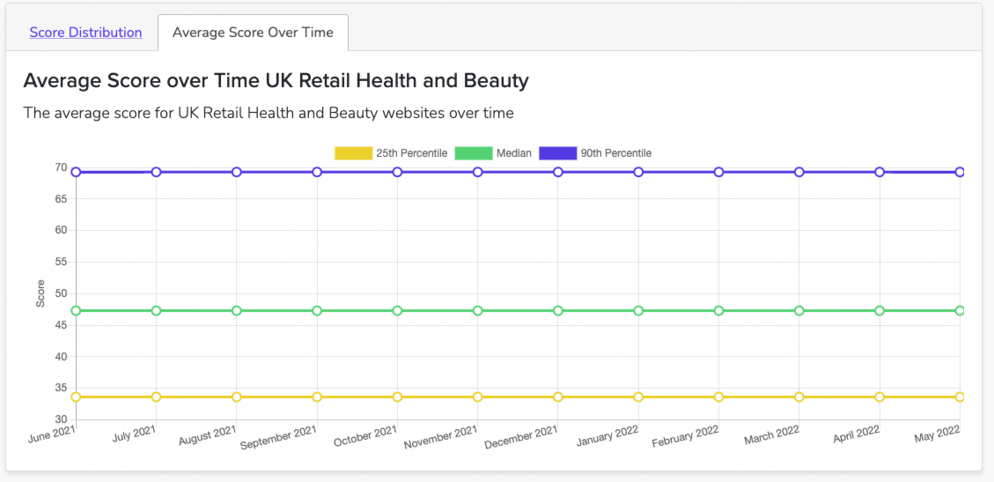 Private sector companies in the UK are not likely to get sued over having an inaccessible website. To date, there have been zero cases in the UK that have made it to court.
Contrast this with the US, however, where the number of accessibility lawsuits rose 250% between 2017 and 2021. Whatever the legal outcome of those individual lawsuits, you can bet that they prompted conversations about accessibility in those companies.
The Valuable 500
We've been testing the websites of the Valuable 500 members for some time now. The median score has dropped slightly, from 53.85 to 52.6, after a slight rise partway through the last 12 months.
This might come as a surprise given the Valuable 500's raison d'être.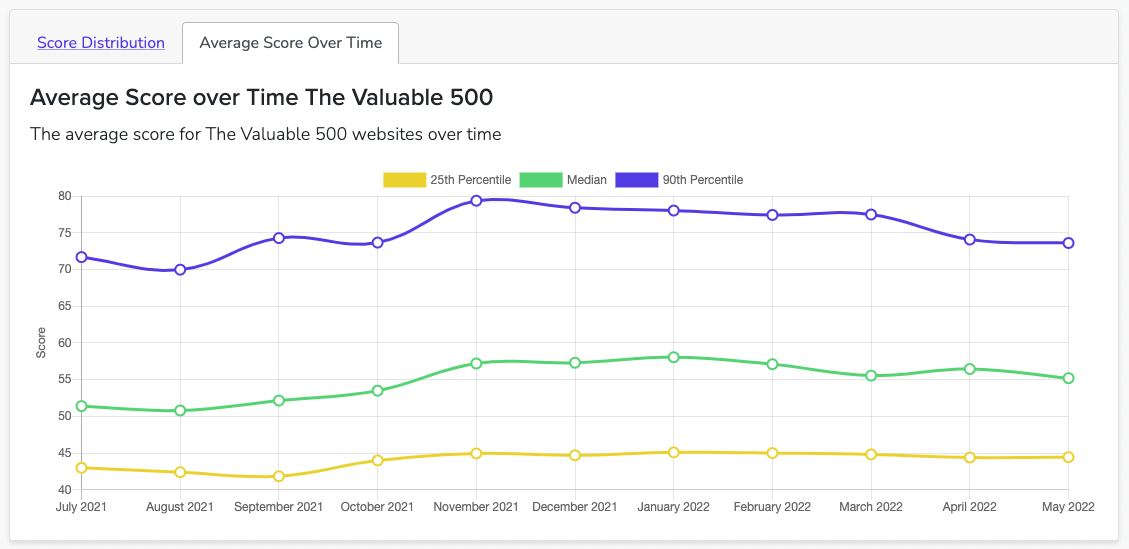 The Fortune 500
There's a slight drop in the median score in the Fortune 500, from 55.1 to 54.9, although the top 90th percentile rose from 77.8 to 81.5.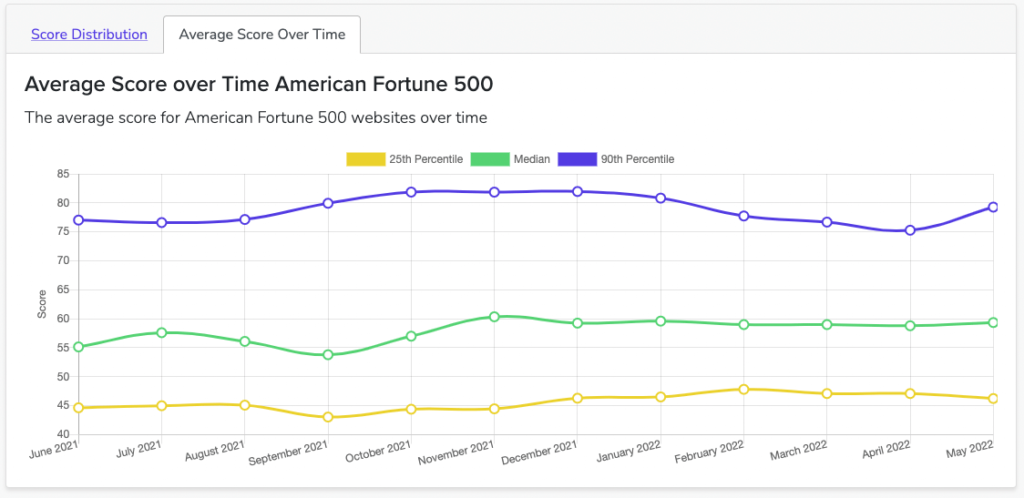 Did accessibility get better or worse over the last 12 months?
Based on this data, we'd have to say overall that things have largely remained the same. In the case of the top-performing categories, that's great news, but for the bottom ones, not so much.
It's clear that there's still a lot more work to do in the private sector. With average scores hovering between 40-55 for the worst-performing sites here, these sites need to do better.
There are many benefits to making your website accessible, not least of which is making sure everyone can use it. It's not even that difficult to make sweeping changes that have a big impact on most users, relatively quickly.
If you're new to accessibility then you'll be interested in our book, "Best Practices for Great Web Accessibility", which you can download for free now. It's aimed at beginners because it was written by one (me).