A class-action lawsuit has been filed against the online eCommerce store, Etsy, for allegedly violating the Americans with Disabilities Act (ADA).
What happened and why?
It's almost ironic for this news to break exactly one week after we celebrated this year's Global Accessibility Awareness Day, and it puts a huge spotlight on the importance of web accessibility – morally, socially, and legally.
So what happened, and how can you avoid finding yourself in Etsy's shoes?
Well, here are the problems a visually impaired user allegedly had while attempting to shop on Etsy which lead to the class-action lawsuit:
No advanced warning when content is opened in a new tab. This makes it disorientating and difficult for visually impaired users to understand the context of the sudden change.
Menu navigation with drop-down elements does not announce whether they are collapsed or expanded. This makes it difficult for a screen reader user to determine if there are more links within them.
Link titles are too long and difficult to understand using a screenreader.
The heading hierarchy is not properly defined. This makes it almost impossible for a user relying on a screen reader to find the content of interest effectively.
Images often lack alt text and those that didn't often have poorly descriptive and ambiguous alternative text.
Purchases require the use of a mouse to complete any transactions.
There is a lack of keyboard navigation features.
With these alleged accessibility issues across Etsy.com, users that are visually impaired or blind are effectively denied from purchasing any goods or services and so the site is in violation of the ADA. You can read the official documentation online on PACER.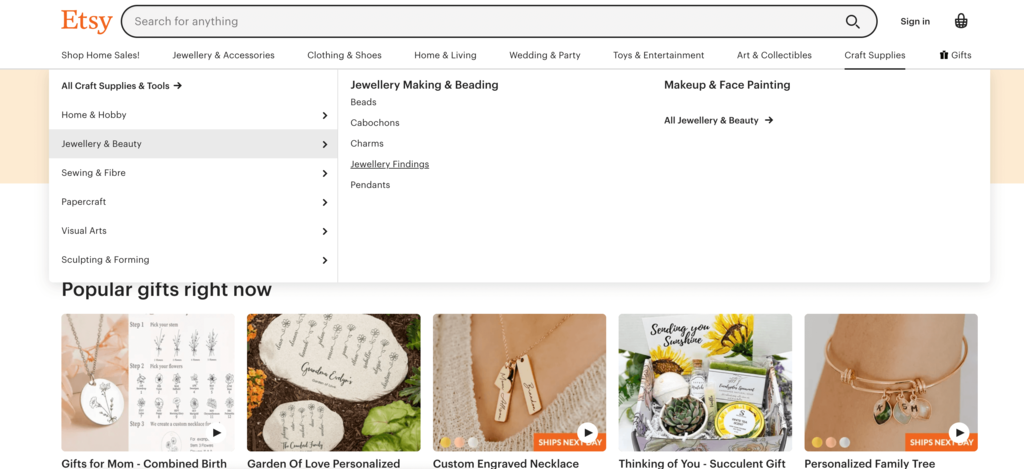 Why does it matter?
In the United States alone there are over 8.1 million people who suffer from a permanent visual impairment. That's 8.1 million people that Etsy allegedly denies being able to shop and browse their goods and services. But it gets worse.
To quote the case file directly "The Internet has become a significant source of information, a portal, and a tool for conducting business, doing everyday activities such as shopping, learning, banking, researching, as well as many other activities for sighted, blind and visually-impaired persons alike."
What it means to say is that in today's world the internet is integral to everyone's way of living no matter their age, intelligence, or physical prowess. Tim Burners-Lee who created the World Wide Web back in 1989 famously said, "The power of the Web is in its universality. Access by everyone regardless of disability is an essential aspect." In short, the internet is, and always has been, used by everyone. And so denying any group of people access is a problem.
Unfortunately, the alleged accessibility issues with Etsy, such as lack of keyboard navigation and requiring a mouse to make a purchase, have an effect beyond people with visual impairments. People with cognitive disabilities may also rely on a screen reader to understand webpage content. And people with missing limbs or motor control disabilities need to rely on alternatives to a mouse, such as keyboard controls, sip-and-puff devices, and other assistive technologies.
In that regard, Etsy is allegedly denying people with all sorts of disabilities and impairments from using their website. In 2022, this is just not OK.
Our research
But is this really all that surprising?
Since the start of the pandemic back in 2020, we've been waiting for the retail industry to put a big focus on making their sites accessible. With the majority of the world's population forced to shop more frequently online you'd think it would be a top priority. Yet research from the Silktide Index shows that in the last year some retail sites have made zero attempts to improve their web accessibility.
Considering how much we rely on online shopping this is something that needs to get better. Unfortunately, it only gets worse.
Overall, accessibility scores in the private sector either stayed the same or have gotten worse over the last 12 months. So despite the importance of creating accessible and inclusive online experiences, we're actually going backward. With this in mind, is it really surprising to see online stores like Etsy face the consequences of an allegedly inaccessible website? It certainly shows that there's a lot of work to do if we want to make the web better. You can see more of the data from the Silktide Index in our recent article.
In the US there's been an increase in accessibility lawsuits by 250% between 2017 and 2021. And if the news of Etsy's class-action lawsuit tells us anything, it's that the upwards trend isn't slowing down.
Whatever the outcome of the lawsuit filed against Etsy, it should certainly prompt more conversations about the importance of web accessibility. Maybe all it takes is a very expensive and very public lawsuit to get retail brands focussing on accessibility.
We've tested thousands of websites for accessibility and amassed all of that data into our eBook on "Best Practices for Great Web Accessibility". If you're interested in ensuring that you're following accessibility best practices, you can download it for free.