Let's be honest. Migrating a website can be a real headache.
Between managing content, broken links, and accessibility, it can feel like a never-ending to-do list.
You've probably heard that you can expect a large drop-off in traffic after launching a new website. And while this can be true, it doesn't have to be. Migrating or launching a new website doesn't have to mean saying goodbye to your traffic or revenue. In fact, it's possible to maintain and even grow your traffic after launching a new website.
So what's the secret? Moz says "every single step [has to be] well-planned and executed." But surely that goes without saying? The thing is, it's a big project, with a ton of work. And that means it's easy to slip up without realizing which can have huge ramifications on your website performance. That's where automation tools come in.
But is it really worth the extra cost for automation tools during an already expensive website rebuild or migration project? Many would argue that it's essential.
How do I manage content during a website migration?
One of the biggest challenges of a website migration project is moving content between websites. This can cause a whole host of issues, from hundreds of broken links to duplicate content. These issues have the potential to tank your site's SEO and discoverability.
Here's an example of a large retailer that after switching from HTTP to HTTPS saw a loss of 35% of visibility within just 2 weeks. It took them 6 months to recover. With a dip that large, the loss of revenue is huge.

The solution is easy – on the surface. Simply launch your website without issues like broken links and duplicate content. In reality, it's a very difficult task. Finding these issues takes time and a whole lot of testing. And when you're towards the end of a large website project, it's easy just to go live with the intent to solve these issues later.
Silktide helps us understand the new website, how it all hangs together, how it flows, and identify quickly any issues we are causing with the new build.

– Health Transformation Manager at National Health Service
That's why it's so important to track these issues throughout the website migration project. Using web automation tools, you can save time by taking the legwork out of manual tasks. By automating the finding, tracking, and monitoring of content issues as they arise you can make the whole project smoother, and remove the chance of human error.
How do I avoid traffic drops during a website migration?
It's easy to assume that if the content on your website doesn't change, then it should still perform the same after a website migration or rebuild. Unfortunately, that's not always the case.
A new website can introduce a whole host of issues, from content, user experience, and accessibility, to crawling and indexing issues. This can damage your website's user experience, performance, and brand reputation. Removing (or adding) large amounts of content, can also damage SEO visibility and conversions.
Automation tools that scan your entire website for these issues can help build an accurate picture of how your website looks to Google. Often the technology to crawl and rank your website is similar to how these automation tools work.
Armed with this sort of data, you can turn the odds in your favor and stand a better chance of setting yourself up for better rankings and an increase in traffic after launch.
Should my website be more accessible after a website migration?
Since the big boom in smartphones, the idea of "Mobile first" web design has been at the top of the list for any website migration project. However, we're stepping into an era where mobile-first is second to "Accessibility-first."
If a website is accessible, that means that it also works seamlessly on mobile devices – it's a huge part of accessibility standards like WCAG. Think of it this way; website performance is a subset of website accessibility.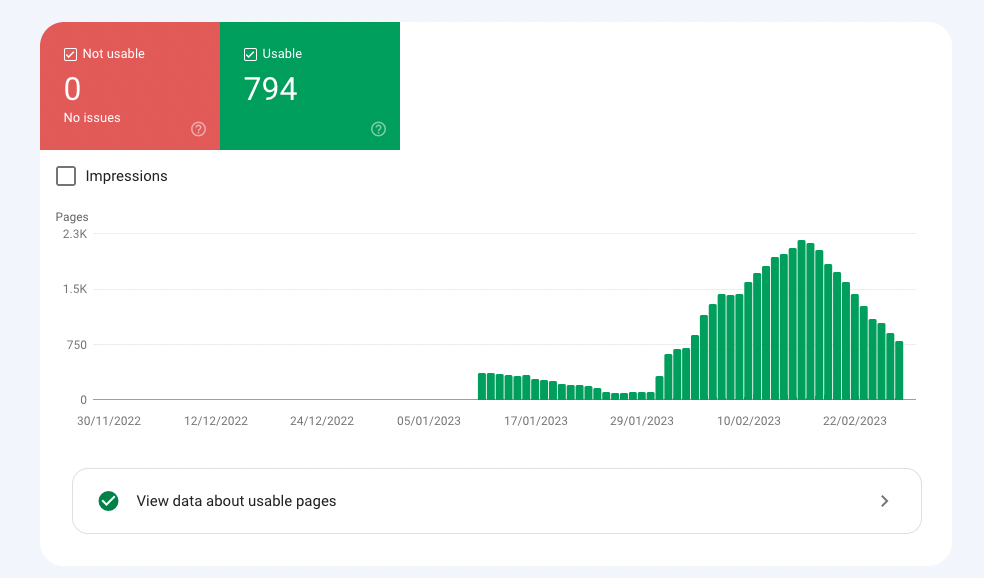 That's why many websites are turning away from mobile-first design to accessibility-first instead. It allows websites to be built with the same benefits as mobile-first design plus a ton more. Increased accessibility means better SEO, more available market size, and a better user experience.
"We can make sure that overall the theme is accessible and compliant from the start. What we really didn't want to do was get to the completion of the website, and then find that we built in a load of problems that we then had to go back to, and so it was really a case of wanting to build it effectively along the way and the team use and refer to Silktide for that on a daily basis to make sure that that happens."

– Health Transformation Manager at National Health Service
Automation tools that can find and report on accessibility issues alongside content and user experience optimizations means that you can ensure your new website is on track throughout development.
Starting a website rebuild or migration project with this mindset saves you time down the line too. You won't need to invest the time to improve the fundamental structure of your website to make it accessible after launch.
How do I know if my new website is really ready to launch?
Automated tools can access the areas where your content isn't yet live. The fact that these tools can access areas behind a VPN or on a staging site can give you increased confidence that your site is ready to go live.
By identifying and fixing issues as they arise, you can ensure your site is fully optimized and accessible before launching. This is the best way to avoid those large drops in traffic and website performance after launch.
How do I manage a website migration project?
Managing a website migration project can be challenging, especially with a large site with lots of pages and content that are essential to get right. Add large teams, or external resources into the mix and it's very easy for the project to blossom into something overwhelming.
Automation tools are a vital project management resource that can streamline the process and make it much smoother. You can keep track of all your site's pages, content, and issues, making it easier to identify areas for improvement and track progress.
You can schedule page checks so that you can be sure that your reports are all up to date. This removes the headache from managing a large amount of work and meeting deadlines. By automating the processes that can be done by a computer, you can save time and effort, allowing you to focus on more important aspects of your project.
How do I prevent a negative impact on my existing website visitors?
Moving content between websites can be a time-consuming and challenging task. There is always a risk of losing content or introducing errors such as broken links, pages that don't work on mobile, or outdated content.
For your existing website visitors, this sudden bad experience can seriously damage your brand reputation. Or worse, turn your loyal brand advocates away.
Using automation tools, you can identify and resolve any content-related issues before going live. The result? Your new website is error-free and ensures a smooth user experience for your existing website visitors.
Conclusion
In conclusion, using automation tools during your website migration can be incredibly valuable. They help ensure accessibility, improve SEO, save time, and enhance user experience. They can give you complete confidence in your new site and reduce the chances of reduced traffic and revenue.
With the cost and time involved in a large website rebuild or migration project, it's essential that everything goes smoothly. It's already difficult to launch a new website without seeing a large dip in web visitors and revenue that takes a long time to recover from. So don't make it even harder.
Want to see how your website holds up? Get a free scan of your website.