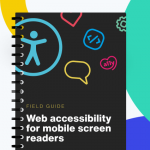 Free book: The field guide for mobile screen readers
Download our free book that will help you better understand how poor accessibility affects people who use assistive technologies on mobile phones.
Related webinars
Technical webinar on accessibility of web forms, including code examples.

Covers creating PDFs from scratch and amending without the source document.

WCAG 2.2 is due for release in 2022. We take a look at the coming changes and why they matter.